January 01,2011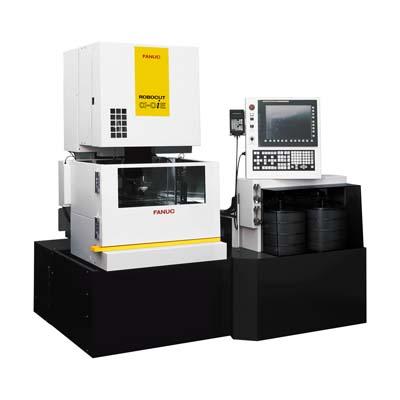 Methods Machine Tools Inc. has introduced the new FANUC RoboCut iE Wire EDM Series, featuring a new power supply for highly accurate and efficient cutting performance in challenging materials. Additional new features include a re-designed lower arm and controls for improvements in efficiency, cutting speeds and energy savings. Offering the same capability for manufacturing complex components as the FANUC iD Wire EDM Series, the new FANUC iE EDM machines offer seven-axis simultaneous machining as an option.
"The FANUC iE Wire EDMs are capable of better finishes, increased geometric to less than .0001" and virtually no recast," said Steve Bond, National Sales Manager for FANUC RoboDrill, RoboCut and EDM Products, Methods Machine Tools. "For example, recast is virtually undetectable at 1000:1 magnification in high nickel alloys like INCONEL and WASPALOY. As a result, we have significantly broadened the range of EDM applications."
The iE Wire EDMs are ideal for machining a wide range of materials including cobalt-chrome, high-nickel alloys and titanium often found in challenging applications such as aerospace, medical and military. The new iE Series machines feature an upgraded Ai Pulse Control II, providing high speed and highly accurate cutting for stepped work pieces by enabling optimal control based on the accurately detected number of discharge pulses. The Ai pulse control also ensures a minimized witness line at both the wire approach and step point, in addition to improved oval shape and small round hole accuracy.
A re-designed lower arm that incorporates a unique system that isolates the lower arm power feed contact during final cuts. This design improves finishes during skim cutting with less passes, straighter parts and improved cutting speeds. A new energy-saving function displays power consumption in real time along with cumulative electric power. The energy saving setting reduces surplus electric power during idle time, reducing overall electrical consumption by up to 20 percent. To significantly reduce operating costs and heat output, the iE Series uses high efficiency inverter style chillers.
In addition, the FANUC Auto Wire Feed System (AWF) has been enhanced to thread while submerged through the start hole of a workpiece with a maximum thickness of up to 8.0" (200mm). In the event of a wire break, the iE Series Ai auto wire repair system can now thread through the kerf while submerged to a depth of up to 6.0" (150mm) without returning to the start point.