September 01, 2015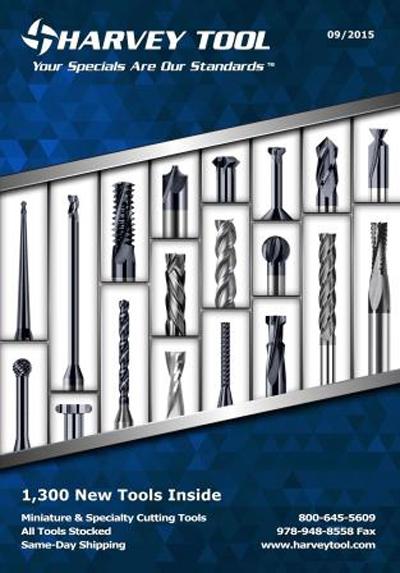 Harvey Tool has released its fall 2015 catalog. More than 1,300 new tools were added, with nine new product innovations, including Reamers, Diamond Cut End Mills, Variable Helix End Mills, Engravers, Double Angle Shank Cutters, Dovetail Cutters, and Hard Milling End Mills. Harvey Tool's Product Development Team has engineered these nine new Miniature and Specialty End Mill lines to grow our product offering to over 13,500 standard tools in stock.
The company now offers Mill Style and Drill Style Diamond Cut Composite Cutting End Mills. These end mills are ideally suited for composites with high fiber content such as carbon and glass fiber composites. The diamond cut style and high flute count allow for effective roughing and semi-roughing in abrasive composites. Both the End Mill Style and the Drill Style have downcut geometry on the OD, with the Drill Style having a 140° point for efficient plunging through composite sheet material. Both styles are offered in fractional sizes between 1⁄16" and ¼".
Harvey Tool's line of Hard Milling End Mills for Steels has been expanded to include end mills designed for milling from stock. In addition to having an h6 shank for shrink fit tool holders, these end mills are offered in a 5-flute variable helix design for improved slotting and roughing. Offered in both square and corner radius profiles, these highly useful end mills are designed to mill hardened tool, die and mold steels up to 55Rc and have our latest generation AlTiN Nano coating for superior hardness and heat resistance.
Harvey Tool announces the expansion of our Tip Radius Double Angle Shank Cutter line. Offered in our most popular angles and sizes, these cutters have a radius on the tip for improved strength and wear resistance. These versatile cutters are ideal for back chamfering, chamfering, deburring and milling a "V-groove." They also have a reduced neck for long reach machining and are offered uncoated or AlTiN coated for improved tool life and lubricity in ferrous materials.
Harvey Tool now offers our Pointed Engraver tool in a double ended version giving you two tools on one shank. These tools feature 180° opposing split lengths for improved balance at high RPMs. They are stocked in common angles and diameters that offer a great option to help decrease tooling costs without compromising quality or performance.
Harvey Tool now offers square Variable Helix Long Reach Stub Flute End Mills optimized for machining medium alloy steels. It's now possible to machine sharp corners in deep cavities with a rigid tool that combats deflection and also features the added benefits of variable geometry to enable higher feed rates, improve part finish, and increase tool life. These tools are offered with various reach options up to 10x the cutter diameter, and are AlTiN coated for improved lubricity and heat resistance when cutting medium alloy steels.
Long Reach Dovetail Cutters are here! Including all the benefits of our standard Dovetail Cutters, these tools feature a reduced neck for long reach machining and a corner radius for improved strength. These cutters are available in three included angles, 30°, 60°, and 90°, and cutter diameters ranging from 1⁄8" to ½". This product is offered uncoated for nonferrous applications and AlTiN coated for improved tool life and lubricity in ferrous materials.
With Harvey Tool's new line of Miniature Reamers machine shops can now finish tight tolerance through and blind holes to high precision. We offer 248 diameter options from .0080" up to .1890" with all tools ground to a tight diameter tolerance of +.0002"/-.0000" so you can be confident all holes are sized accurately to print specifications. These tools are AlTiN coated for improved lubricity and heat resistance in ferrous materials and are reached to 12x diameter for use in a wider range of hole depths.
"This catalog is a testament to Harvey Tool's commitment to thinking of our customers first by offering broader and deeper selection of stocked specialty tools," said Jeff Davis, Vice President of Product Development.