March 12, 2012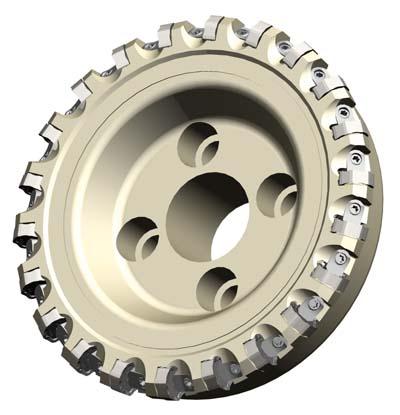 Walter USA LLC announces the expansion of its Xtra-tec F4045 milling cutter line with a new cutter designed with a medium pitch for use on lower horsepower machines and for difficult to fixture workpieces.
Stable machines, workpieces and clamping arrangements are required for maximum cutting rates. However, sometimes feeds and speeds need to be scaled back because workpieces with complicated shapes do not always permit rock-solid clamping. That's where a tool such as the Xtra-tec F4045 with medium pitch comes" The medium pitch allows the tool to deliver optimum performance in conditions of limited stability, and the milling cutter's other features enable it to boost productivity in a wide array of situations.
These other features include negative-shaped inserts with 14 cutting edges, seven per side. The inserts are pressed with a positive rake face which allows for freer cutting geometry that permits high cutting volumes in lower horsepower machines. Also, its innovative insert clamping system locks the inserts securely in their seats. The clamping wedge pivots to the side after just a few turns of the clamping screw, allowing rapid insert change.
Three geometry shapes, stable, universal and easy-cutting, enable adaptation to a range of different applications. Cutting rates and tool life are further enhanced by the use of Walter's Tiger-tec coatings.
The F4045 comes with either Tiger-tec Silver or with the PVD Tiger-tec grade WKK25 for especially difficult machining conditions. The Tiger-tec Silver advantage begins with a newly formulated aluminum oxide coating with an optimized microstructure that delivers superior resistance to crater and flank wear as well as to plastic deformation.