April 27, 2020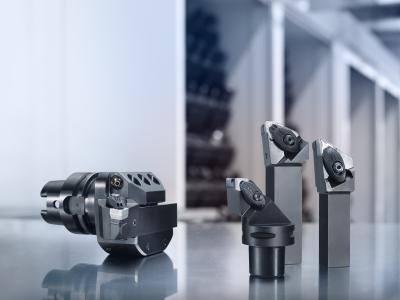 Seco Tools has announced the expansion of its Jetstream Tooling Integrated (JETI) technology with a complete range of holders for General ISO turning. This easy-to-use internal coolant technology increases tool life dramatically while also shortening setup and indexing times thanks to a new single-screw insert clamp design and the absence of external hoses.
By placing high-pressure coolant directly in the cutting zone, JETI technology ensures superior chip and temperature control. For further process optimization, holders equipped with Jetstream Tooling Duo feature a second coolant outlet from the clearance side that can be turned on or off depending on part-processing requirements. As a result, manufacturers can run much higher cutting data without impacting application security for any ISO-S, ISO-M or ISO-P turning application.
First introduced for MDT, X4, 150.10 and Snap-Tap® holders, the expanded range of JETI for General ISO holders includes 182 new products for all inch, metric and Seco-CaptoTM holders.
Related Glossary Terms
clearance


clearance

Space provided behind a tool's land or relief to prevent rubbing and subsequent premature deterioration of the tool. See land; relief.

coolant


coolant

Fluid that reduces temperature buildup at the tool/workpiece interface during machining. Normally takes the form of a liquid such as soluble or chemical mixtures (semisynthetic, synthetic) but can be pressurized air or other gas. Because of water's ability to absorb great quantities of heat, it is widely used as a coolant and vehicle for various cutting compounds, with the water-to-compound ratio varying with the machining task. See cutting fluid; semisynthetic cutting fluid; soluble-oil cutting fluid; synthetic cutting fluid.

turning


turning

Workpiece is held in a chuck, mounted on a face plate or secured between centers and rotated while a cutting tool, normally a single-point tool, is fed into it along its periphery or across its end or face. Takes the form of straight turning (cutting along the periphery of the workpiece); taper turning (creating a taper); step turning (turning different-size diameters on the same work); chamfering (beveling an edge or shoulder); facing (cutting on an end); turning threads (usually external but can be internal); roughing (high-volume metal removal); and finishing (final light cuts). Performed on lathes, turning centers, chucking machines, automatic screw machines and similar machines.