June 01, 2015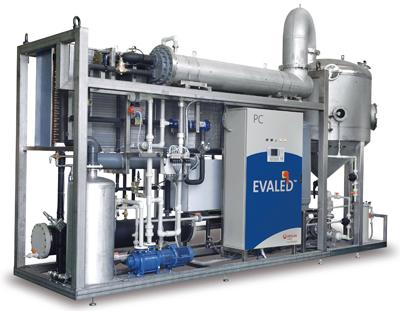 Mitigate the rising cost of wastewater disposal by recycling and reusing water with EVALED Vacuum Evaporation and Distillation technology from Veolia Water Technologies of Italy – in partnership with PRAB. Featuring Heat Pump Vacuum Evaporators, Mechanical Vapor Recompression, and Hot Water/Cold Water Vacuum Evaporators, EVALED easily handles capacity ranges of 40 — 52,800 gallons of wastewater per day for treatment and recycling. These vacuum evaporators operate as a closed loop system with discharge streams for concentrate and distillate without any air emissions. EVALED's low energy consumption and reliable, efficient operation deliver a return on investment that can often be measured in months.
"For more than 65 years, PRAB has been synonymous with chip and fluid management and wastewater treatment. Our coolant filtration and ultrafiltration systems have helped industrial metalworking and surface treatment processors with filtering and recycling coolant and wastewater. We have expanded our offering to now include the Vacuum Evaporation Technology from Veolia. This means we can offer our customers a full spectrum of wastewater treatment options from 100µm down to .0001µm and including zero liquid discharge," notes Andrew Flowers, PRAB Wastewater Treatment National Sales Manager. PRAB has expanded its wastewater treatment systems offering to help companies meet increased municipal regulations and to provide a cost reduction plan related to haul-away costs and hazardous waste risk mitigation.
To assess the best wastewater treatment options PRAB starts with a water analysis and goals assessment. Flowers notes; "Our customers often come to us not knowing where to start with their wastewater reduction plan, we can typically do a plant assessment to determine the best approach and then present a budget proposal with estimated return on investment."
Related Glossary Terms
coolant


coolant

Fluid that reduces temperature buildup at the tool/workpiece interface during machining. Normally takes the form of a liquid such as soluble or chemical mixtures (semisynthetic, synthetic) but can be pressurized air or other gas. Because of water's ability to absorb great quantities of heat, it is widely used as a coolant and vehicle for various cutting compounds, with the water-to-compound ratio varying with the machining task. See cutting fluid; semisynthetic cutting fluid; soluble-oil cutting fluid; synthetic cutting fluid.

metalworking


metalworking

Any manufacturing process in which metal is processed or machined such that the workpiece is given a new shape. Broadly defined, the term includes processes such as design and layout, heat-treating, material handling and inspection.