October 28,2021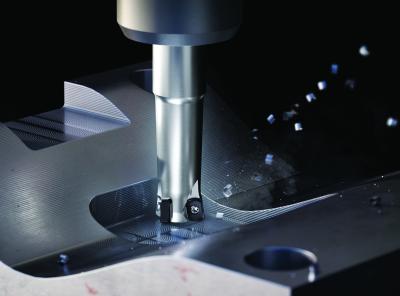 YG-1 takes versatility, performance and productivity to a whole new level with new ENMX09 double-sided inserts for high-feed applications, corporate representatives recently announced.
The larger ENMX09 inserts provide higher productivity and metal removal rates than the ENMX06 series, while having many of the same features, and strengthen the YG HF4 Mill ENMX high-feed milling series, which was developed to meet the most stringent demands for versatility, productivity and process stability in today's applications.
ENMX09 double-sided inserts are designed to take on tough applications with absolute authority. Optimized for larger diameter cutters and larger depth of cuts, YG-1's 09 inserts are designed 20-25% thicker than other, more conventional products on the market. Added thickness and a wide flank face work to achieve stronger and more stable clamping, more secure machining and longer tool life, especially in difficult-to-machine materials.
Three insert geometries are offered over a wide range of tough materials: ENMX General performs best in carbon steel and low-alloy steel; ENMX-TR features a reinforced edge for superior work in high-alloy steel, hardened steel and cast iron, whereas the -ST geometry excels in stainless steel and heat-resistant super alloys.
Four reinforced-edge corners make expert work of high-feed milling, profiling, face milling, ramping, plunging and helical interpolation. ENMX09 inserts feature a low entry angle for higher feed rates, with a positive rake angle that reduces cutting forces. Larger cutting diameters provide higher metal removal rates. Four true edges also deliver a real economic advantage; typical encroachment on the secondary edge is eliminated. YG-1 ENMX09 cutters are available as endmills from 1-1.5 in. and face mills from 2 to 6 in.