June 12, 2020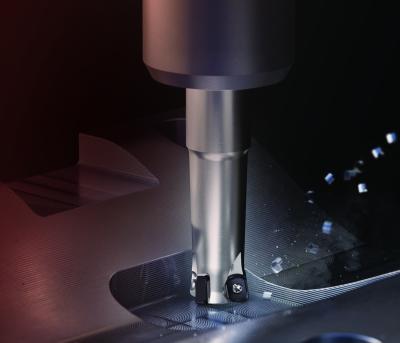 The YG-1 ENMX High-Feed Mill 4 is a new high-feed milling series developed to meet the most stringent demands of versatility, productivity and process stability for today's applications. These types of tools are commonly used in mold & die, power generation and a variety of applications and materials in general machining markets. The unique YG-1 ENMX High-Feed Mill 4 concept provides the ideal choice for high-feed milling with small-diameter tools.
The unique thickness of the YG-1 ENMX insert offers a series of benefits. First, YG-1 makes the inserts 20-25% thicker than others on the market. This allows normal flank wear to develop without encroaching on the secondary edge and results in full use of all four edges for a more economical solution.
Greater insert thickness also lends itself to the most stable clamping, ensuring predictable and secure machining and longer tool life in the toughest applications. Also, the thicker negative insert has a positive rake angle that improves chip evacuation and reduces machining load.
In addition, YG-1's corner protection design enhances rigidity while increasing tool life with the chip-breakers' optimized geometry.
The ENMX cylindrical cutter is available in diameters from 16mm to 32mm (0.75" to1.25"). Shell mills are available in 40mm to 50mm (1.5" to 2") diameters.
View a video.