May 13,2013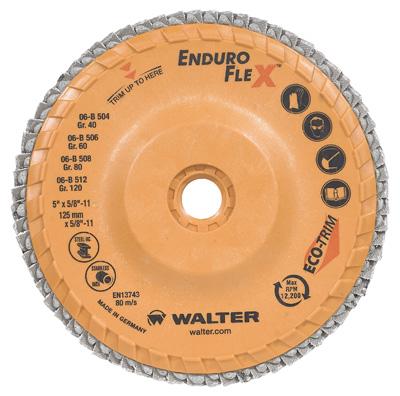 Walter Surface Technologies (WST) announced key enhancements to its cutting edge line of flap discs branded as Enduro-Flex and Enduro-Flex Turbo for metal finishing applications, earning high marks in finishing performance, removal rate and cost efficiency.
ENDURO-FLEX is now an eco-friendly alternative. When it comes to the metal fabricating and finishing industry, having high performance and being eco-friendly are no longer mutually exclusive. In addition to being the highest performing finishing discs on the market, the best selling Enduro-Flex now foregoes the traditional plastic backing and has been improved with an innovative ECO-TRIM backing made from a base of natural and sustainable plant fibers. In 2013, Walter will manufacture millions of Enduro-Flex flap discs with the new backing, helping to dramatically reduce plastic production output. Using less plastic reflects Walter's clear commitment to reducing the overall ecological footprint. A percentage of Enduro-Flex sales will go to funding the planting of new trees to regenerate forests for future generations.
Designed as a solution for finishing steel and stainless steel, Enduro-Flex flap discs require fewer changeovers, which help reduce waste and ensure greater operational efficiency. In comparative tests between flap discs, Enduro-Flex set the industry standard with 130 per cent more steel removed than leading competition. This saves both time and costs while simultaneously providing an environmentally sound solution. A 5-inch disc with Grit 40 removes up to 2,500 grams over its lifespan; performance is comparable in other Walter disc sizes and different grit sizes.
Related Glossary Terms
backing


backing

1. Flexible portion of a bandsaw blade. 2. Support material behind the cutting edge of a tool. 3. Base material for coated abrasives.