March 01, 2015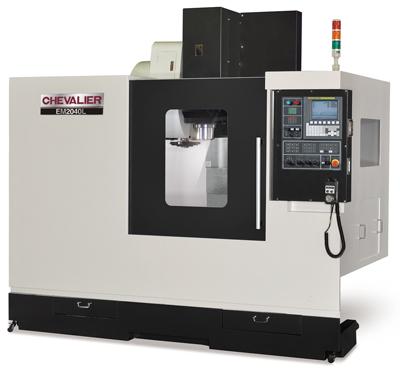 The EM series from Chevalier is a high-speed VMC engineered with efficiency to satisfy the need for large quantity machining with limited floor space. The series comes in three models: EM1620L, EM2033L and the EM2040L.
Vital specs about the EM series:
Structure: The major parts of the machine are constructed of high-quality Meehanite cast iron, which reportedly offers superior stability. The machine's base is supported by full-travel, enabling it to be suitable for high-speed machining. All three axes are built with high-speed linear ways providing smooth quick movement without delay. The series ranges from 16" x 20" to 20" x 40".
Capacity: The series has a table load of up to 1,320 lbs. with an overall table dimension of up to 47" x 20". The travel on the X-, Y- and Z-axes are up to 40" x 20.8" x 20".
Performance: The series provides fast interpolation, minimizing machining time with high, rapid speed, up to 1,889.7ipm. The powerful 20-HP spindle motor handles up to 10,000rpm, combining an attractive finish surface in high-speed with enough torque in lower rpm. Optional 12,000/15,000 rpm is available. Another benefit is quick pick-up speed, with high-speed rigid tapping. Tool capacity is 24 ATC arm type, with a random tool change.
Control: The series is loaded with features: FANUC 0iMD, color 8.4" LCD that has a 4-axes, simultaneous contouring, linear-circular-helical interpolation and canned cycles for drilling, tapping and profiling, plus a conversational Manual Guide 0i and much more.
Related Glossary Terms
interpolation


interpolation

Process of generating a sufficient number of positioning commands for the servomotors driving the machine tool so the path of the tool closely approximates the ideal path. See CNC, computer numerical control; NC, numerical control.

profiling


profiling

Machining vertical edges of workpieces having irregular contours; normally performed with an endmill in a vertical spindle on a milling machine or with a profiler, following a pattern. See mill, milling machine.

tapping


tapping

Machining operation in which a tap, with teeth on its periphery, cuts internal threads in a predrilled hole having a smaller diameter than the tap diameter. Threads are formed by a combined rotary and axial-relative motion between tap and workpiece. See tap.