October 03, 2016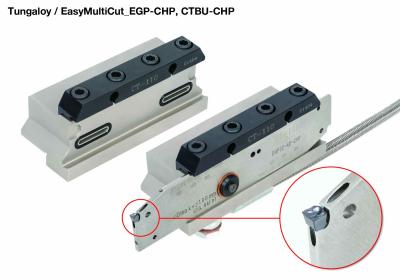 Tungaloy Corp. announces the expansion for EasyMultiCut: the EGP-CHP blade and the CTBU-CHP block, both of which respectively have a coolant hole for high-pressure internal coolant supply. EasyMultiCut is the multi-functional tool series for grooving, featuring a unique self-clamping insert that increases tool rigidity.
The toolholder has no top clamping parts to hold down the insert, providing smooth chip evacuation and allowing deep groove/cut-off depths. The productivity of EasyMultiCut is remarkable even in face grooving operations where chip evacuation tends to be difficult.
The overhang lengths can be adjusted according to groove depths [max. parting off diameter: 4.72" (120 mm)], to assure tool rigidity is maximized during machining. In addition, through the coolant hole on the tip of the blade, ample coolant is constantly supplied to the cutting edge, which gives stable and long tool life.
Main features:
■ EGP-CHP blade is applicable for groove widths in 0.157", 0.197" and 0.236" (4, 5, and 6 mm).
■ Max. parting off diameter: 4.72" (120 mm)
Additional Products from Tungaloy America Inc.