September 27, 2016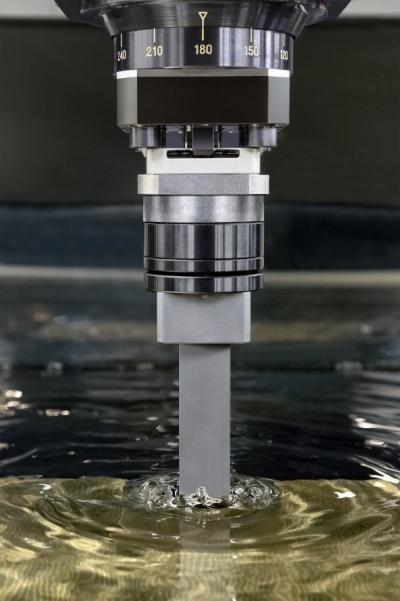 Makino introduces its EDNC6 and EDNC8 sinker EDMs that combine rigid and precise construction, simple touch-screen programming and advanced performance features for accurate and fast cutting of large workpieces. Makino says its proprietary technologies included on the EDNC6 and EDNC8 ensure the ideal mix of speed, surface finish and reduced electrode wear.
Both machines feature the new revolutionary Hyper-i control interface, which is the same system used on Makino's wire EDMs, signifying a standardization of Makino's EDM controls. The unique and modern Hyper-i control represents a paradigm shift in operational efficiency on the shop floor, and provides operators with an identical and powerful user-friendly interface that boosts productivity for both Makino wire and sinker EDM products, according to the company.
The Hyper-i control improves machine productivity by intelligently streamlining the interface so that all operator skill levels can achieve the most efficient results. This modern graphical control makes use of pinch, swipe, and spread touch functions similar to smartphones and tablets, and provides effective and natural operation using a 24-inch high-definition touch screen monitor. The user friendliness of the Hyper-i Control is further enhanced with the integration of on-board digital manuals, intelligent E-Tech Doctor help functions, and an e-Learning training system.
Both the EDNC6 and EDNC8 machines feature a full three-sided programmable drop tanks that provide ergonomic access for setup and operation. The work tank height, which controls dielectric fluid level, can be set to match the height of the workpiece while providing optimum viewing of the machining operation.
Each machine model is available in a wide tank configuration that provides a significant increase in work tank size to accommodate larger workpieces. Work tank inner dimensions and machine strokes are as follows:
EDNC6:

Strokes: [X] 25.6 x [Y] 17.7 x [Z] 13.8 (Z 19.7 optional) inches
Standard Work Tank: 39.4 x 29.5 / Wide Work Tank: 55.1 x 35.4
Maximum Fluid Height: 15.7 inches

EDNC8:

Strokes: [X] 31.5 x [Y] 19.7 x [Z] 15.8 (Z 19.7 optional) inches
Standard Work Tank: 55.1 x 35.4/ Wide Work Tank: 70.9 x 47.2
Maximum Fluid Height: 17.7 inches
"Makino's patented drop-tank design allows fully open access to the table from three sides. This superior accessibility makes it remarkably easy to set up and measure large workpieces, check the condition in the work tank, perform other tasks that are done repeatedly every day and simplifies requirements for automation," said Brian Pfluger, Makino's EDM product line manager. "The EDNC-Series provides the same level of productivity and processing capability as Makino's smaller work-zone EDAF-Series, but with a larger platform."
The design of the EDNC6 and EDNC8 also features:
High-mass castings to ensure mechanical and thermal stability
Stationary table for accurate positioning regardless of workpiece size or weight
Space-saving integrated reservoir in the base casting to reduce machine footprint size
Dual-anchored direct-drive ball screws that maintain precision long term
Productivity Enhancing Technologies:
High-Speed Z-Axis: The HS-Rib Z-Axis configuration reduces rough machining speeds of small-size electrodes, such as plastic injection tooling ribs or pin gate details, and provides enhanced jump speeds of up to 20m/min with 1.5G acceleration that can reduce machining times by up to 60 percent.
HyperCut Technology: HyperCut is a new generator function that increases power levels without requiring additional reduction on the electrode, and it improves roughing speeds by up to 30 percent without affecting work piece accuracy or surface quality. The technology minimizes electrode wear while providing the fastest possible machining speed.
SuperSpark IV: SuperSpark IV is an advanced adaptive control technology that optimizes the machining discharge power and electrode jump motions during roughing and finishing operations. This technology is especially effective on rib or drafted electrodes, and when combined with HyperCut settings, can reduce total machining time by up to 50 percent.
All EDNC-Series sinker EDMs can be equipped with Makino's High-Quality Surface Finish (HQSF) technology that yields achievable surface finish capabilities 50 percent better than conventional surface finishes, regardless of discharge surface area. The HQSF technology can extend tool life through improved surface integrity, and can also reduce cycle time even when fine surface finishes are not required.
Related Glossary Terms
electrical-discharge machining ( EDM)


electrical-discharge machining ( EDM)

Process that vaporizes conductive materials by controlled application of pulsed electrical current that flows between a workpiece and electrode (tool) in a dielectric fluid. Permits machining shapes to tight accuracies without the internal stresses conventional machining often generates. Useful in diemaking.
Additional Products from Makino Inc.