October 03, 2019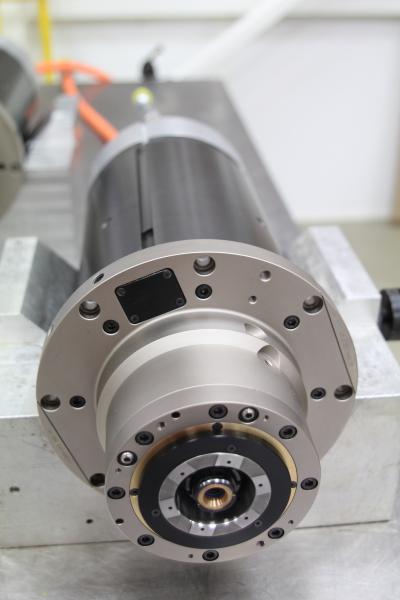 Absolute Machine Tools partner PCI SCEMM (a Tongtai company) has introduced the e-Spindle, a new electro-spindle that integrates sensors and actuators to monitor cutting processes and adjust parameters to optimize tool life and workpiece quality.
At the EMO 2019 trade show, PCI presented three e-Spindle applications that showcased smart machining technology. One toolholder demonstration highlighted real-time monitoring of cutting process variables including force, vibration and coolant pressure. An adaptive drilling application illustrated the benefits of ongoing vibration control. And a honing toolholder operation featured integrated measurement of workpiece diameter to permit continual control of abrasive honing tooling.
PCI developed e-Spindle technology in France in collaboration with the Technical Centre for Mechanical Industry (Cetim) and the Aix-en-Provence campus of the French Arts et Métiers engineering and research graduate school.
Absolute Machine Tools President Steve Ortner said, "e-Spindle technology from PCI is another way Absolute Machine Tools enables its customers to participate fully in smart manufacturing, the IIoT and Industry 4.0."
Related Glossary Terms
abrasive


abrasive

Substance used for grinding, honing, lapping, superfinishing and polishing. Examples include garnet, emery, corundum, silicon carbide, cubic boron nitride and diamond in various grit sizes.

coolant


coolant

Fluid that reduces temperature buildup at the tool/workpiece interface during machining. Normally takes the form of a liquid such as soluble or chemical mixtures (semisynthetic, synthetic) but can be pressurized air or other gas. Because of water's ability to absorb great quantities of heat, it is widely used as a coolant and vehicle for various cutting compounds, with the water-to-compound ratio varying with the machining task. See cutting fluid; semisynthetic cutting fluid; soluble-oil cutting fluid; synthetic cutting fluid.

toolholder


toolholder

Secures a cutting tool during a machining operation. Basic types include block, cartridge, chuck, collet, fixed, modular, quick-change and rotating.