August 05, 2016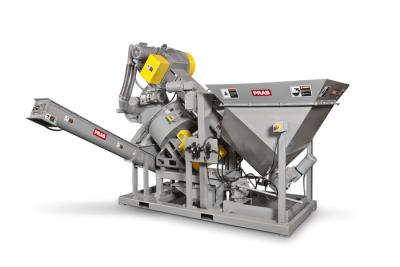 PRAB Inc.'s E-Series Chip Processing System reduces volumes of metal turnings into thumbnail-size chips, separates oil and dry chips, and collects oil for reuse. According to the company, it engineers and manufacturers the equipment based on the exact needs and specifications of the application. This enables end users to be assured the equipment will work in the application for which it was designed, and deliver long-term, reliable service.
And if you're going to Chicago's McCormick Place Sept. 12-17 for IMTS 2016, you may want to drop by PRAB Booth NC-238 as the company demonstrates the E-Series Chip Processing System using enhanced 3D digital animation. Visitors will see inside equipment as each piece works in series to reduce volumes of metal turnings into thumbnail size chips, separate oil and dry chips, and collect oil for recycle and reuse. Also featured in the booth will be the Horizontal Axis Crusher, Paperbed filter, Guardian Tramp Oil Separator, and Reverse Osmosis System for recycling wastewater.
"Our job as a provider of scrap and fluid processing equipment and maintenance support to the metalworking community is more vital than ever," said PRAB National Sales Manager Mike Hook. "The metalworking industry is taking on shifts in the needs of the automotive and aerospace OEMs dealing with new steel and aluminum formulas, more-difficult-to machine alloys such as titanium, and the ability to handle a greater mix of metals and alloys. These factors change machining dynamics and the make-up and volume of solid and liquid waste. Our customers rely on us to assess their changing operating conditions and offer the most comprehensive equipment to quickly and automatically handle scrap for recycle and metalworking fluid reuse."
Related Glossary Terms
alloys


alloys

Substances having metallic properties and being composed of two or more chemical elements of which at least one is a metal.

metalworking


metalworking

Any manufacturing process in which metal is processed or machined such that the workpiece is given a new shape. Broadly defined, the term includes processes such as design and layout, heat-treating, material handling and inspection.

tramp oil


tramp oil

Oil that is present in a metalworking fluid mix that is not from the product concentrate. The usual sources are machine tool lubrication system leaks.