October 03, 2017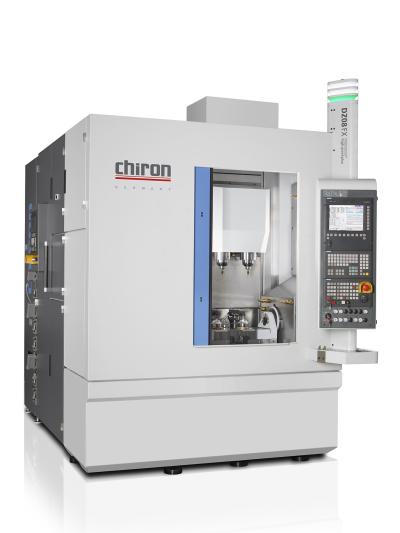 CHIRON introduces its new vertical twin-spindle 5-axis machining center, DZ08 FX Precision. The machine includes contact-free linear direct drives in the X. Y and Z axes. These drives bring the spindles faster to optimum feed rates and permit increased traverse rates. Compared to the previous model, this machining center produces aluminum components 20 to 50 percent faster, according to the company.
The Chiron Series 08 machining centers are among the most compact, versatile machines in their class, offering a customizable modular design.
Direct path measuring systems in all axes maximize precision. The DZ08 FX Precision has two 14kW water-cooled milling spindles which accelerate to 40,000 rpm in only 1.9 seconds. In rapid feed, they reach a speed of 75 m/min (X/Y) and 100 m/min (Z). The results are chip-to-chip times of about 3.0 seconds and a tool change in about 0.8 sec.
The DZ08 FX can be equipped with a 2-axis rotary tilt table to facilitate fast 5-axis machining.
The compact DZ08 FX Precision has a footprint of only 3.1 m2. It can be supplemented with the automation solution VARIOCELL UNO; double-gripper robot and workpiece storage and handling system occupying less than 1 square meter enabling loading and unloading during machining. Up to 12 raw part pallets can be included in the VARIOCELL.
The growing demand for automated solutions is a trend within all sectors. For nearly every application, CHIRON Group provides customers powerful, fully automated complete solutions. The combination of high production quality, flexibility, and short order processing times ensure an optimal process for each individual solution.
It has been nearly ten years since the first robot cell was integrated into a CHIRON machining center. Today, the automation departments in the companies of the CHIRON Group have more than 40 employees: engineers, mechatronic technicians, technical product designers, robot technicians, IT technicians – they all work together on complex automation demands from customers of all sectors. Around 50 percent of about 390 Chiron turnkey machines per year are equipped with an automation solution.