October 15, 2021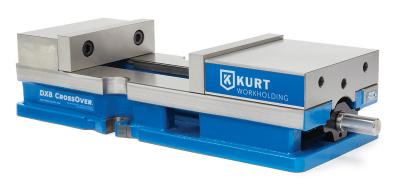 Kurt Manufacturing today announced the new DX8 CrossOver® vise—bringing their benchmark DX-series vise design to an 8-inch platform. Featuring a premium one-piece body design with a cast stationary jaw—now standard on all Kurt single-station vises—The new Kurt DX8 CrossOver® combines the best features of the Kurt D810 and Kurt 3800V vises into a single vise.
New stationary-jaw Kurt DX8, DX6 and DX4 vises were designed using Finite Element Analysis—providing 30% less horizontal push-back deflection than previous DX models. Less vise-body deflection translates to more stability and a lifetime of dimensional precision—setting a new standard in precision flatness, parallelism and repeatability. The DX8 CrossOver® vise features the same bed height and keyway to the stationary jaw face as the D810. The DX8 also features a redesigned nut with less weight, a new brush seal design, and a larger stronger bearing pack for more durability.
"We saw a demand for a high-quality yet affordable addition to the DX-family of vises in a larger 8-inch vise platform," said Paul Carlsen, Vice President of Corporate Marketing. "We're always striving for improvement and the new DX design is better overall and offers our customers even more quality, value and repeatability than previous models."
Additional benefits of the cast stationary jaw
The cast stationary jaw on the DX8 provides additional benefits that improve performance and user experience. The new design eliminates fasteners on the top of the stationary jaw and reduces the chance of body twist during or after assembly. The jaw design also minimizes chip and cutting fluid blowback with no counter bored holes on the top of the jaw to pool fluid and chips. The pull-type design now matches the quality and safety of Kurt's highest precision 3600V and 3800V vises.
The DX8 CrossOver® vise design retains the lifting handle on the back side of the stationary jaw for easy vise positioning and features Kurt's proprietary AngLock® spherical segment to create all-directional alignment and reduce jaw lift and improve performance. All DX CrossOver® vises use sine keys for easy, accurate mounting and feature Kurt's Lifetime Ironclad Warranty.
Related Glossary Terms
cutting fluid


cutting fluid

Liquid used to improve workpiece machinability, enhance tool life, flush out chips and machining debris, and cool the workpiece and tool. Three basic types are: straight oils; soluble oils, which emulsify in water; and synthetic fluids, which are water-based chemical solutions having no oil. See coolant; semisynthetic cutting fluid; soluble-oil cutting fluid; synthetic cutting fluid.

sawing machine ( saw)


sawing machine ( saw)

Machine designed to use a serrated-tooth blade to cut metal or other material. Comes in a wide variety of styles but takes one of four basic forms: hacksaw (a simple, rugged machine that uses a reciprocating motion to part metal or other material); cold or circular saw (powers a circular blade that cuts structural materials); bandsaw (runs an endless band; the two basic types are cutoff and contour band machines, which cut intricate contours and shapes); and abrasive cutoff saw (similar in appearance to the cold saw, but uses an abrasive disc that rotates at high speeds rather than a blade with serrated teeth).