June 01, 2015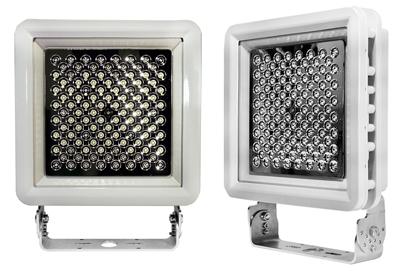 Dialight announced the launch of its new 15,000 lumens DuroSite and Safesite floodlight in UL, CE and C1D2 versions. The higher lumen floodlight can replace up to 400W traditional HID lighting fixtures and represents the future of energy efficient illumination for industrial and hazardous applications worldwide.
DuroSite and Safesite floodlights typically consume 50 percent less energy than HID lighting sources while reducing overall maintenance costs. Each fixture has a tempered glass lens and a die cast aluminum housing, with a corrosion resistant epoxy base/polyester powder-coated finish, and fixture weighs 30 lbs. or less. The factory-sealed floodlight delivers up to 15,000 lumens at 140 Watts (107 lumens per watt efficiency) and includes Dialight's 10 year, full performance warranty. Featuring an in-house designed power supply and isolated wiring compartment, the fixtures are complete with standard 6kV surge protection. The fixtures ensure safe operation in a wide range of volatile environments, boasting a T5 temperature rating for ambient temperatures ranging from -40° F to +149° F (-40° C to +65° C).
Each LED floodlight ships standard with a stirrup-mounting bracket ensures safe operation in a wide range of environments. A range of mounting accessories are available for a variety of applications along with standard NEMEA direction options from very wide to very narrow.
Dialight's LED floodlights are available in with the following certifications, ratings and compliances: UL1598/4; UL844; CID2; CIID1, D2; CIII,D1, D2; CSA; NEMA 4X; and IP 66/67.
Related Glossary Terms
fixture


fixture

Device, often made in-house, that holds a specific workpiece. See jig; modular fixturing.