July 03, 2019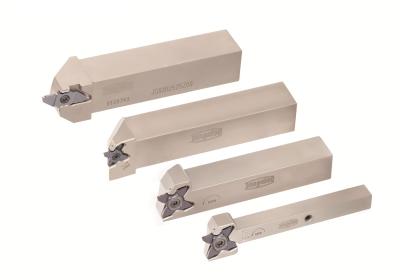 Tungaloy is expanding its DuoJust-Cut, TetraMini-Cut and TetraForce-Cut lines of indexable grooving and parting tools to enhance their flexibility and application ranges. Tungaloy's DuoJust-Cut, TetraMini-Cut and TetraForce-Cut are successful lines of grooving and parting tool series that feature an innovative insert clamping interface for secure mounting during challenging operations.
DuoJust-Cut, a popular tool line among Swiss-style machine users, will now offer a 25 mm square shank holder to allow customers in the general lathe market to utilize its full benefits. In addition, new holders for TetraMini-Cut and TetraForce-Cut are available in 20 mm and 25 mm square shanks will be offered with Tungaloy's high-pressure internal coolant capability to improve chip removal and tool life predictability.
A 12 mm square shank holder of TetraForce-Cut, designed to be compatible with Tungaloy's DirectTung-Jet system, will also be released. This system enables interference-free tooling on designated Swiss machine models by channeling internal coolant directly from the tool post through the toolholder, with no need for an external coolant sub-assembly.
These new products will help customers seeking improved productivity and process security in various grooving and parting operations.
At a glance:
Enhanced lineup of highly robust toolholders for additional applications
New DuoJust-Cut holders ensure low force for deep grooving and parting-off
TetraMini-Cut's new CHP-capable 2020 and 2525 square shank holders provide customers' grooving operations with improved productivity
New TetraForce-Cut 1212 holder is compatable with DirectTung-Jet system for improved deep grooving and parting operations on Swiss machines; while its 2020 holder with CHP capability improve productivity in general turning applications
18 holders to be added in this expansion (metric 10 items, inch 8 items)
Additional Products from Tungaloy America Inc.