October 18, 2017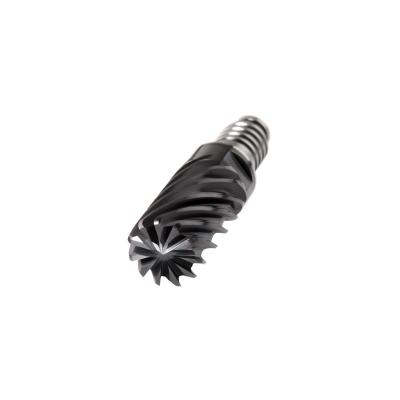 DUO-LOCK from Kennametal Inc. is a modular endmill with the performance of solid carbide. It uses a proprietary, double-cone locating surface similar to that of Kennametal's KM or KM4X tooling design, assuring "not to exceed" radial runout values of 5 μm (.0002 in.) and Z-axis coupling repeatability of 10 μm (.0004 in.) or better. And since tool to tool repeatability of 50μm (.002 in.) is assured, there's no need for offset adjustment or offline presetting when
changing tools. It's also extremely rigid, with a unique and also proprietary "intelligent" coupling thread that reportedly absorbs 25 percent more torque than its nearest competitor. The result is that DUO-LOCK can take 1xD full-width slotting cuts and side milling up to 50 percent radial engagement along its entire 1.5 x D cutting length, even in titanium and similar high-strength alloys.

Thilo Mueller, manager of solid-carbide endmilling at Kennametal, says the initial release of DUO-LOCK included more than 400 line items, and that a number of small additions were made earlier this spring. This new expansion, however, more than doubles the existing cutting tip product offering.
"Last year's IMTS presented the first wave of the HARVI endmill family, which included HARVI I, HARVI II and HARVI III geometries in diameters ranging from 0.625 in. (16 mm) up to 1.25 in. (32 mm)," says Mueller. "The new offering builds on that, with additional sizes and several completely new cutter styles. This increases DUO-LOCK's versatility, giving even more customers an opportunity to leverage its proven strength and accuracy."

Thanks to the following features, DUO-LOCK HARVI covers virtually any application where solid carbide is used:
-The variable HARVI helix design eliminates chatter in even the most difficult materials.
-An asymmetrical flute angle allows higher feed rates than traditional endmills.
-The eccentric flute relief offers greater edge stability with commensurately longer tool life.
-DUO-LOCK HARVI has a tapered core that provides rigidity in even the heaviest cuts
-Its specially designed axial and radial rake angles reduce tool pressure.
-Roughing and finishing can be performed with the same tool, or dedicated roughers and finishers used in the same interface.

Depending on the geometry and cutter size, 4- to 6-flute HARVI versions are available, as are several PVD-coated micrograin carbide grades. These include KCSM15, designed for titanium and other high-temp aerospace grade alloys. KCPM15, suitable for steel, stainless steel, and cast iron, and the multilayer KC643M, a go-to grade for wet-cutting a range of materials. All grades can be used to machine metals up to 52 HRC, and all are effective at reducing depth of cut notching, edge wear, and cratering in difficult materials.

So what's been added? For one thing, DUO-LOCK modular endmills are now available in much smaller sizes, starting at 0.375 in (10 mm). Corner chamfering and rounding tools have been added to the line as well, in addition to a broad assortment of new geometries. For example, several new "corn cob" style roughers are being introduced. One has a wavy profile that creates small chips for better chip evacuation during heavy metal removal. A ballnose style rougher leverages the same geometry but is designed for 3D profiling in moldmaking and similar applications. And an "aerospace friendly" version has a unique geometry that reduces cutting forces when machining high-temp alloys, as well as corner radii that reduce chipping.
For finishing operations, Kennametal has developed a cutter with six flutes and a 45-degree helix angle similar that of the HARVI III "aerospace expansion," but modified for better performance in steel and stainless steel. Another series has nine to 19 flutes with a higher number (depending on the diameter), and proprietary W-shaped cutting edge, and unequal flute spacing, eliminating chatter and improving surface finish in high-temp aerospace alloys, even at higher feed rates.
Finally, Kennametal has developed the MaxiMet, 2-flute and 3-flute high-shear endmills that rip through aluminum for highly productive roughing while still generating square walls and smooth floor surfaces when finishing thanks to a precision-ground wiper facet near the corner.
Kennametal is also expanding its toolholding offering with several long reach straight and conical steel shanks, which can be cut to size for your specific needs. This is in addition to the extensive assortment of HSK, PSC, CAT, DIN and BT-flange toolholders already in place.
"We see ourselves as enormously well-positioned with the HARVI family together with our new roughers, finishers, and MaxiMet expansion to meet our customers' needs," says Mueller.
If you're ready to give these new cutters a try, he offers a few bits of advice. "Your arm is not a good torque wrench," he says. "Always use our Torque Master wrench and the proper amount of torque as described in our catalog. Also, be sure to clean the threads properly before use. Before shipping, a small amount of oil is applied to each insert to prevent corrosion. This must be removed. One might assume that any toolholding mechanism should be lightly lubricated, but this is not the case with DUO-LOCK. The intelligent thread must be clean, as well as the insert locating
surfaces if the tool is to work properly. Do that and you'll be very happy with the results."
Additional Products from Kennametal Inc.