September 13, 2013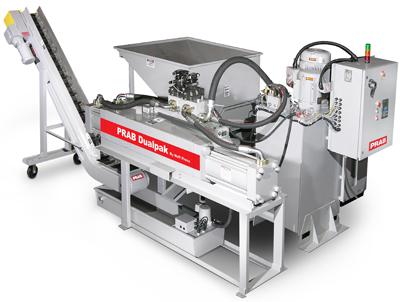 PRAB's Dualpak briquetter adds value to scrap, reduces volumes and transportation costs, and helps manufacturers comply with EPA regulations by removing hazardous cutting fluid from material. Plus, helps recapture coolant and lubricant. Augers feed the wet chips or swarf into a compression chamber where opposing hydraulic cylinders press the metal and squeeze out any fluid to create a compact, dry briquette.
"The briquettes created by Dualpak's exclusive dual-compaction are easy to remelt and can bring a better price from recyclers because they know that 99 percent of the weight is the actual metal, not fluid," said Mike Hill, vice president of PRAB sales and marketing. "Plus, briquettes are easy to store, helping to maintain a cleaner shop floor and making it convenient to hold on to them and sell when metal prices are high."
The Dualpak is easy to operate, featuring touch screen controls for access to reporting and diagnostics, and can process aluminum, steel, cast iron, copper, brass, titanium, magnesium, Inconel, alloy steels, and more. As part of a scrap recycling and fluid reclamation system, combine Dualpak with PRAB's wringers, crushers, conveyors, and liquid-solid and liquid-liquid filtration.