December 16, 2019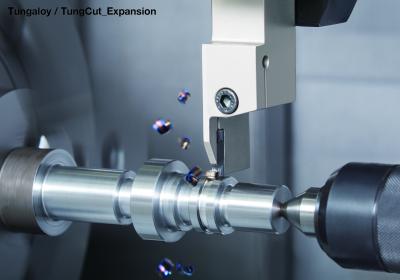 Tungaloy is expanding its TungCut series of grooving tools to include new insert and holder options. TungCut's DTE grooving insert offers a versatile design that allows the insert to be used for grooving and turning in both axial and radial directions.
The new insert options include DTE3-020 for a cutting width of 3 mm with 0.2 mm corner radii, as well as DTE4-080 and DTE5-080 for cutting widths of 4 mm and 5 mm, respectively, both with 0.8 mm corner radii. The inserts are offered in AH7025, a PVD grade dedicated for grooving applications from roughing to finishing.
The popular modular tooling series, TungModularSystem now includes a CAEFR-****-CHP type modular blade enabling OD and face grooving with up to 4.8 mm cutting depths. The blades are offered in two sizes covering cutting widths from 2 mm to 6 mm.
In addition, TungCut expands the monoblock holder lineup in its TungCut toolholder series to include JCTEL and CTER/L lines to meet various cutting depth needs. This expansion further enhances TungCut to be able to provide optimal cutting-edge overhangs in various grooving situations, while minimizing vibration and instability.
At a glance:
Expanded lineup of DTE grooving inserts for additional cutting widths and corner radii
New TungModularSystem modular blades for OD and face grooving applications with cutting widths from 2 mm to 6 mm
Enhanced monoblock toolholder lineup offers expanded coverage of maximum cutting depths
Total of 23 items to be added in this expansion
Additional Products from Tungaloy America Inc.