December 13,2016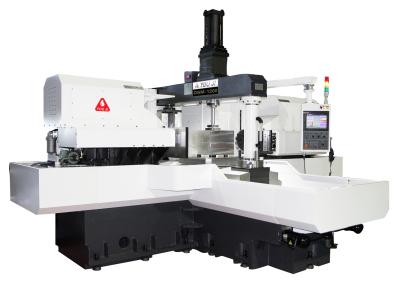 The DSM series of heavy-duty duplex milling machines from You Ji is engineered specifically for two-, four- or six-sided production squaring and chamfering of square and rectangular workpieces. Depending on the machine configuration chosen, end users can machine blocks as small as 0.750" x 0.750" (19.05 mm x 19.05 mm) and as large as 47" x 47" (1,175 mm x 1,175 mm) in maximum thicknesses ranging from 6" (150 mm with 10" cutter) to 16" (400 mm with 16.5" cutter).
The machines' duplex spindle design enables simultaneous two-sided milling that produces consistent parallelism and perpendicularity as well as tight tolerances and fine surface finishes. Heavy, one-piece cast-iron machine bases are engineered via finite element analysis (FEA) modeling technology that optimizes machine rigidity and minimizes thermal displacement.
These duplex milling machines feature rotary worktables that move in the X-axis on roller-type linear ways and index from 0˚ to 315˚ at 45˚ intervals. Hydraulic clamping and Hirth couplings combine to produce positioning accuracy of +/-0.0003" and repeatability of 0.0002".
The machines' twin milling heads move on rigid box ways along the Z-axis. The heads feature variable-speed NT50- or NT60-taper spindles and 15 or 30 hp, depending on the machine model. The spindles produce high levels of torque at low rpm, permitting effective use of large-diameter cutters.
Machine operation is semi-automatic, as workpieces are shuttled in manually then automatically centered, clamped and checked. Clamping pressure increases in steps to expedite accurate centering and provide sufficient clamping force to eliminate chatter. Clamping fixtures are modular and can be tailored to specific workpiece shapes.
Every DSM series machine utilizes a Mitsubishi C-70 control with a touch-screen interface and HMI (Human Machine Interface) customized to You Ji specifications. Operator-friendly software speeds setups and reduces changeover time by allowing subsequent jobs to be set up while machining is in process. A cutting memory module stores workpiece-material-based cutting data that can be applied to new parts.
Each DSM milling machine includes standard automatic measuring and positioning functions as well as a control cabinet heat exchanger, chip conveyor, semi-enclosed machine guarding, and ten sets of clamping fixtures. Optional features range from large-diameter milling cutters and a spindle chiller to full enclosure guards, a multi-tap transformer for high-voltage operation and additional clamping fixtures.