September 10, 2018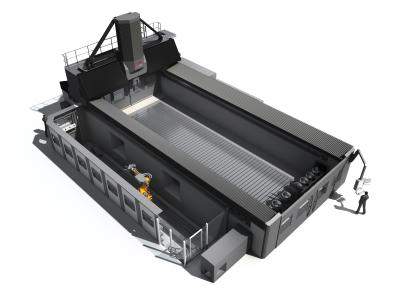 Starrag has announced a world first in Droop+Rein vertical milling centers with the launch of three new machines – led by the revolutionary Droop+Rein FOGS HD (pictured), "which takes heavy-duty cutting to the next level," and the evolutionary NEO update of four existing series machines.
The result is that its Droop+Rein portal, gantry and overhead gantry milling portfolio now offers from a single-source the complete spectrum of large vertical 5-axis milling solutions from high-speed through to heavy-duty cutting to users across Starrag's focused industry sectors of aerospace, energy, transportation and industrial.
The new developments and updates involved all existing machine designs and complete the Droop+Rein product range of large vertical milling centers:
- Overhead gantry design - the new Droop+Rein FOGS HD and updated FOGS NEO/N40 machines;
- Floor-guided gantry design - the new Droop+Rein GS and GFS NEO/N40 models, complementing the existing up to 201 hp G and GF series;
- Portal design - the updated Droop+Rein TS and TFS NEO/N40 machines adding to the existing T and TF models that boast 201 hp spindle power and 8,850 lbf ft machining capability.
These Droop+Rein revelations are headed by the new FOGS HD machine which, says Starrag, takes heavy-duty cutting to the next level by combining the dynamism and precision of overhead gantry machining with the output of rigid portal/gantry milling.
Following Starrag's philosophy of modular design, this new machine with hydrostatic guideways can be supplied with a choice of control systems, table configurations, milling heads, tool changing system and spindles – rated up to 134 hp/5,531 lbf ft – to satisfy even the most demanding tasks asked of its expansive X-, Y- and Z-axes travels of 1,220 in, 236 in and 98.4 in, respectively. Feed rates are 1,575 ipm in X and Y, and 787 ipm in Z.
Droop+Rein's evolutionary update of its proven milling technologies is exemplified by the machines with the NEO designation, and it includes a new rack and pinion drive system for the ram (Z-axis) and an integrated C-axis design of +/-400° using a torque drive.
The enhancements to the NEO machines' main milling drive – which utilizes the multi-functionality of a 53.6 hp main spindle drive and head change, and are designated as N40 models - include a new main drive motor and two-stage gearbox that can now be extended to 80.5 hp and 1,327 lbf ft in S6 mode.
These new design features will be implemented into the renowned FOGS and the updated TS/TFS machining centers. The integration of these attributes into the new GS/GFS floor-guided gantry machines completes the comprehensive range of machine choices now available.
With these latest developments, users can now cherry pick the perfect Droop+Rein machine with all manner of machine features and automation aids to suit their individual needs, in line with Starrag's strategy of 'Engineering precisely what you value'!
Machine construction of the complete series follows Droop+Rein's/Starrag's renowned principles for a high-quality, rigid build quality resulting in ultra-consistent performance (accuracy and longevity).
This is complemented by a wide choice of milling heads (over 300 different styles/ratings are available) with which the Droop+Rein technology and application experts configure the machines exactly meet the current and future applications. Professional project management ensures a smooth and timely production start.
Once in production, all machines are harnessed by Starrag's in-house developed Integrated Production System for real-time feedback of machine status and performance, in line with Industry 4.0 principle.