March 01, 2015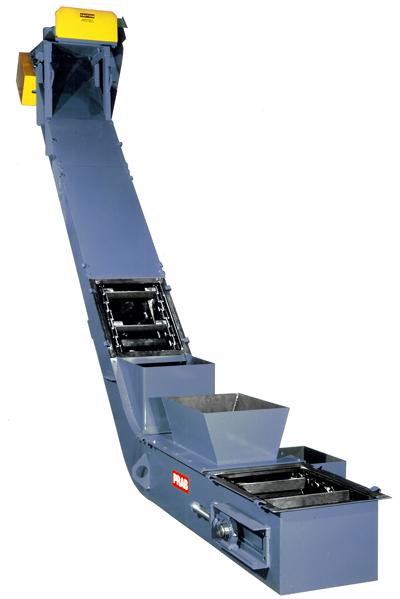 PRAB designs and builds drag conveyors specifically designed to handle the challenging operating conditions of industrial metalworking. The Drag Conveyor by PRAB allows metalworking operations to be more clean and efficient by removing waste from machining and grinding operations quickly and effectively. The heavy-duty, sealed enclosure allows for the collection of fluids along with metal scrap. No fluid leaks from the conveyor providing a safe and clean work environment. The option of multiple inlets and discharge points allows for the use of a single conveyor to collect and discharge at various points.
"Many times metalworking companies try to use a steel belt conveyor to move metal scrap in all applications. While this type of conveyor is very versatile, when handling the often wet chips and grinding swarf the better alternative is our Drag Conveyor. The Drag Conveyor is designed to handle the higher ratio of wet to dry waste material more effectively and is designed to fit the collection and discharge points unique to each application," notes Mike Hook North American Sales for PRAB.
The Drag Conveyor is designed with abrasion resistant flights and a heavy-duty chain for 24/7 operation and long-life. PRAB engineers work to assess the optimum layout and design which can include multiple inlet and discharge hoppers and coolant pumps and filtration equipment.