February 29,2016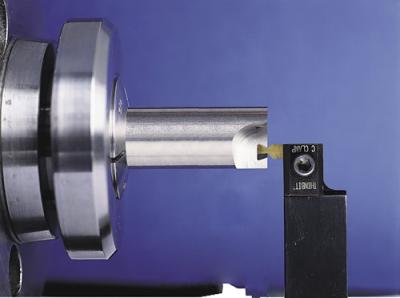 Manufactured by Kaiser Tool Co., the THINBIT GROOVE 'N TURN line includes Dovetail grooving inserts and Static O-Ring Grooves. The inserts are for machining O-ring dovetail grooves with 66° undercut angles. According to the company, the insert design is optimized for strength by using a left/OD and right/ID insert pair to generate the groove form. Static O-Ring Grooves are available in OD and face grooving styles.
Related Glossary Terms
grooving


grooving

Machining grooves and shallow channels. Example: grooving ball-bearing raceways. Typically performed by tools that are capable of light cuts at high feed rates. Imparts high-quality finish.

outer diameter ( OD)


outer diameter ( OD)

Dimension that defines the exterior diameter of a cylindrical or round part. See ID, inner diameter.

undercut


undercut

In numerical-control applications, a cut shorter than the programmed cut resulting after a command change in direction. Also a condition in generated gear teeth when any part of the fillet curve lies inside of a line drawn tangent to the working profile at its point of juncture with the fillet. Undercut may be deliberately introduced to facilitate finishing operations, as in preshaving.