August 19, 2019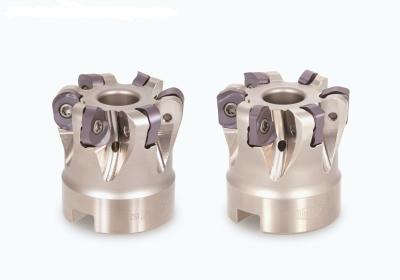 Tungaloy is expanding its DoTwistBall line of copy milling cutters to include additional diameters of shell mills. DoTwistBall is designed to ensure maximum machining reliability during complex 3D milling processes.
The insert is constructed in a helically twisted structure, which fits the seat constructed in a matching helical profile. This design provides secure insert positioning and fixation with anti-twist protection during machining. In addition, the strong, thick design of the insert helps to withstand machining impact preventing insert fracture.
The cutter body can accommodate either round LNMX-MJ inserts with 4.0 mm, 5.0 mm or 6.0 mm nose radius or LNMX-HJ inserts for high-feed milling, making the cutter extremely effective for machining complex curved surfaces typical in die and mold industries.
The new cutter diameters include 42 mm, 52 mm and 63 mm in popular shell mill bodies to accommodate the LNMX04 inserts.
At a Glance:
Innovative insert-seat interface ensures superior insert fixation for process security
High-feed inserts or radius style inserts can be used on the same cutter body
Total of three cutter bodies are added in this expansion
Related Glossary Terms
gang cutting ( milling)


gang cutting ( milling)

Machining with several cutters mounted on a single arbor, generally for simultaneous cutting.

milling


milling

Machining operation in which metal or other material is removed by applying power to a rotating cutter. In vertical milling, the cutting tool is mounted vertically on the spindle. In horizontal milling, the cutting tool is mounted horizontally, either directly on the spindle or on an arbor. Horizontal milling is further broken down into conventional milling, where the cutter rotates opposite the direction of feed, or "up" into the workpiece; and climb milling, where the cutter rotates in the direction of feed, or "down" into the workpiece. Milling operations include plane or surface milling, endmilling, facemilling, angle milling, form milling and profiling.

milling machine ( mill)


milling machine ( mill)

Runs endmills and arbor-mounted milling cutters. Features include a head with a spindle that drives the cutters; a column, knee and table that provide motion in the three Cartesian axes; and a base that supports the components and houses the cutting-fluid pump and reservoir. The work is mounted on the table and fed into the rotating cutter or endmill to accomplish the milling steps; vertical milling machines also feed endmills into the work by means of a spindle-mounted quill. Models range from small manual machines to big bed-type and duplex mills. All take one of three basic forms: vertical, horizontal or convertible horizontal/vertical. Vertical machines may be knee-type (the table is mounted on a knee that can be elevated) or bed-type (the table is securely supported and only moves horizontally). In general, horizontal machines are bigger and more powerful, while vertical machines are lighter but more versatile and easier to set up and operate.
Additional Products from Tungaloy America Inc.