October 13, 2016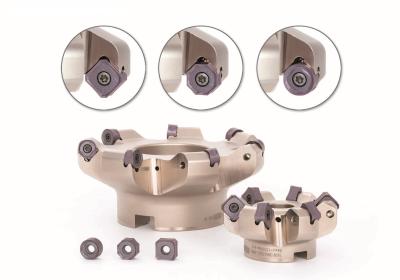 DoTriple-Mill is Tungaloy's latest facemilling cutter, featuring an innovative dovetail clamping system that will reportedly dramatically reduce insert lift up and excessive shear force imposed on the screws during heavy-duty milling. Compared with the last generation of facemilling platforms, DoTriple-Mill delivers stable machining and consistent tool life. Three types of inserts – SNGU, ONGU, and RNGU types – fit in the same cutter body, making DoTriple-Mill suitable when various materials have to be machined and machine tool settings are limited.
The SNGU-type insert, the most versatile of the three, is an eight-cornered, square insert with a depth of cut up to 0.26" (6.5 mm). The concave cutting edge produces barrel shaped chips even in machining large depth of cut and delivers excellent chip evacuation. The insert geometry is particularly suitable for stainless steel with high nickel/chrome content.
The ONGU-type insert is an economical 16-cornered insert with a maximum depth of cut of 0.129" (3.3 mm) and a concave cutting edge for extra smooth machining.
The RNGU-type insert is an eight-cornered, round insert with strong cutting edges applicable for a depth of cut up to 0.24" (6 mm). The insert is not only reliable in roughing abrasive scales but also capable of high-feed machining when used at a low depth of cut, thus covering a range of applications. The SNGU and ONGU types are also complemented with a separate wiper insert for finishing purposes to improve surface quality and strengthen the corner radii.
A bore type cutter body is available in coarse and close pitch designs, and the standard tool diameter ranges from 2.00" to 6.00" (and in metric sizes from 50 to 160 mm). DoTriple-Mill's insert grade includes two types for various materials: AH3135 with high fracture resistance for steel, stainless steel, and difficult to cut materials; and high wear-resistant AH120 for cast iron.
Additional Products from Tungaloy America Inc.