April 27,2016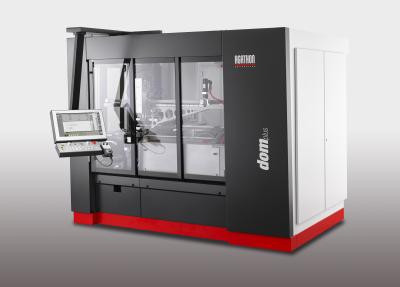 AGATHON AG offers the new Dom Plus 4-axis grinding center equipped with automated loading capacity for high production grinding of indexable inserts on the periphery with two K-Lands through integrated reclamping.
With up to 12 trays capacity for high production "autonomy," the new 180° swiveling loading gripper allows flexible handling processes and grinding for a second chamfer. Other Dom Plus features include powerful, maintenance-free direct drives for the X, Y and C axes, short transfers due to agile handling and internal dressing and fast product changeover facilitated by offline programming and graphic simulation resulting in low cost per workpiece.
In addition, ease of use is attained through excellent visibility and accessibility due to simplified, ergonomic design, unique, domain specific programming languages for indexable inserts and consistent Agathon operating philosophy and software. The external design is clean, incorporating excellent visibility and rooftop mounting for peripherals.
Related Glossary Terms
dressing


dressing

Removal of undesirable materials from "loaded" grinding wheels using a single- or multi-point diamond or other tool. The process also exposes unused, sharp abrasive points. See loading; truing.

grinding


grinding

Machining operation in which material is removed from the workpiece by a powered abrasive wheel, stone, belt, paste, sheet, compound, slurry, etc. Takes various forms: surface grinding (creates flat and/or squared surfaces); cylindrical grinding (for external cylindrical and tapered shapes, fillets, undercuts, etc.); centerless grinding; chamfering; thread and form grinding; tool and cutter grinding; offhand grinding; lapping and polishing (grinding with extremely fine grits to create ultrasmooth surfaces); honing; and disc grinding.