June 24, 2019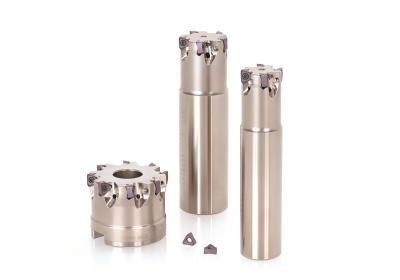 Tungaloy expands its DoForce-Tri line of square shoulder milling cutters to include a size 07 insert, with six cutting edges for precision milling and insert economy.
As machines increase their sophistication and complexity, their mechanical components are also becoming smaller and more intricate; many simple and weak structured parts are produced by near net shape molding, requiring minimum stock removal. To efficiently machine complex structures while avoiding tool-work interferences, many manufacturers resort to square shoulder milling tools. For light depth of cut applications, they prefer close-pitched cutters that ensure more than one cutting edge is always engaged in the cut for added stability and efficiency.
The DoForce-Tri 07 insert allows the insert density and feed capability to be as high as double that of the conventional, trigonal insert, while maintaining the same DOC. This is possible because of the innovative, curved cutting edge geometry on a smaller insert. This new 07 insert ensures light cutting forces while maintaining better stability than standard positive milling inserts making it perfect for machining weak workpiece setups on low rigidity machines. The insert has 6 cutting edges that include wiper edges for good surface finishes. The tool also has high wall accuracy because of the optimized insert design.
The cutter diameters are available in ranges from 18 mm to 32 mm and 0.75" to 1.25" for the cylindrical type, and 40 mm and 50 mm and 2.0" for the shell mill (bore) type.
At a Glance
Six edged double-sided insert
Close pitch cutter design with up to 2x insert density over conventional cutters
Higher cutting performance than standard positive inserts in applications ≤2 mm DOC
Provides high level of face and shoulder milling capabilities
11 metric and eight inch cutter bodies and four inserts to be added
Additional Products from Tungaloy America Inc.