November 30, 2021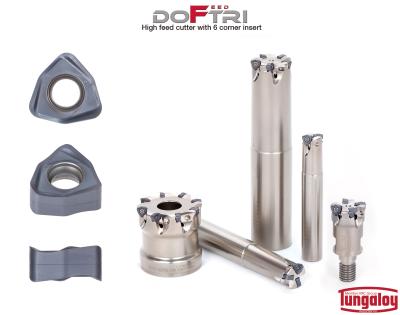 Tungaloy has unveiled DoFeedTri high-feed milling cutters that use double-sided inserts with six total cutting edges, enabling further reductions of machining costs.
Extremely economical high-feed milling cutters, DoFeedTri uses double-sided inserts with three cutting edges on each side — six total cutting edges — providing 1.5x better cost per edge than conventional inserts with four cutting edges.
DoFeedTri inserts come in a unique trigonal shape with a greater contact face that achieves secure insert retention when screw-clamped on the cutter, eliminating insert movement during machining.
Ramping down, the cutter first bottom-cuts the surface with the leading insert, then further cuts the same surface with its trailing insert. DoFeedTri inserts are designed with a long "inner" cutting edge that can bottom-cut more material than conventional milling inserts when trailing the leading insert during ramp down operations. This makes DoFeedTri a perfect tool for productive ramp down operations.
Furthermore, a reduced entry angle of the cutter eliminates chatter, improving stability during machining with long overhang tool setup. Strong cutting edges provide the insert with long tool life and security at increased machining rates.
Two insert grades are available: AH3225, the first choice for steel promising exceptionally long tool life and AH8015 that demonstrates superior performance in hardened steel and heat-resistant superalloys. Cutters are offered in the diameter range from 16 mm to 50 mm in metric sizes and from 5/8″ to 2″ in imperial sizes. With a maximum d.o.c. of 1.0 mm (.039″), the new DoFeedTri contributes to customers seeking further machining cost reductions. Total of 26 new cutters and inserts have been introduced.
Additional Products from Tungaloy America Inc.