June 21, 2017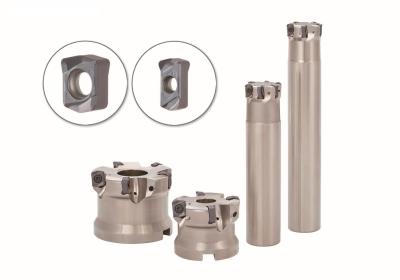 Tungaloy Corp. is continuously expanding its DoFeed series. The latest addition includes inserts in grade AH8015.
DoFeed is a high-feed milling cutter series with a close-pitched insert alignment, intended for various applications where an efficient removal of large stock is required, such as profiling and pocketing processes in die and mold shops. The double-sided insert geometry brings benefits in tool economy and productivity and has been earning customers' confidence in recent years, according to the company.
The series already has an ample lineup of inserts and cutter bodies, intended for milling various materials including steel, stainless steel, cast iron, and heat-resistant superalloys. Backed by market requests for machining hard materials over HRC 50, a new insert line of the AH8015 grade now joins the product family.
AH8015 is a PVD grade with a coating composition of AlTiN. The multiple-layered coating configuration with high aluminum content improves resistance to chipping and built-up edge, improving machinability for smearing materials typically used in the die and mold industry. An extremely hard submicron carbide grade is used for the substrate for improved wear resistance.
Additional Products from Tungaloy America Inc.