February 02, 2022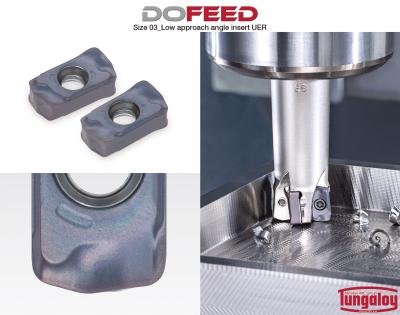 Tungaloy has expanded its DoFeed high feed milling cutter series by adding six LNMU0303UER inserts.
DoFeed is a proven high feed milling cutter series featuring economical double-sided inserts with four cutting edges, offering a wide variety of cutter body diameters and styles.
New LNMU0303UER inserts are available in Size 03 and designed to provide long tool life. These UER inserts are interchangeable with existing ZER inserts on the same cutter body.
The new LNMU0303UER inserts are designed to provide a smaller approach angle than existing LNMU0303ZER inserts when set on the cutter body so that the insert generates thin chips. This chip thinning effect reduces cutting loads, minimizing damage on the cutting edges during machining of exotic materials for longer insert tool life. Also, a small approach angle directs the cutting forces in the axial direction towards the spindle. This amounts to less tool deflection, as there is much less radial force pushing the cutter off its center axis, enabling extremely stable long overhang machining without compromising cutting parameters.
Two chipbreaker styles are available: MJ is suited for general purpose applications and ML boasts sharp cutting edge and low cutting forces. Inserts are offered in AH3225 grade for steel, fracture-resistant AH130 grade for stainless steel and titanium alloys, and AH8015 for machining hardened steel and cast iron.
DoFeed series offers an extensive lineup of inserts and cutter bodies ranging from 16 mm to 50 mm (from .630″ to 2″) diameters to provide high productivity for a wide range of applications.