March 02,2020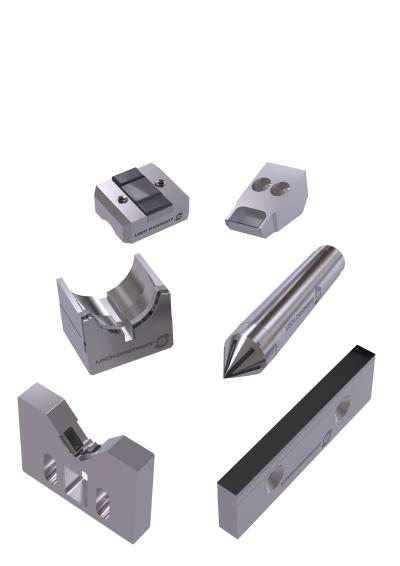 Long since, diamonds – preferably polycrystalline synthetic diamonds (PCD) – have been proven superior to carbide in machining. Why should diamonds as wear protection for tool and grinding machines be only available to a small, proactive user group? "Diamonds are not only a girl's best friend!"
Lach Diamond offers many ways to use diamonds as wear protection and to profit from its superior hardness.
Examples include centring tips, bezels, prisms, bearing shells, templates and guide rulers, as well as PCD-tipped knives for plastic granulates and diamond-coated guide elements for the paper and printing industries.
Related Glossary Terms
grinding


grinding

Machining operation in which material is removed from the workpiece by a powered abrasive wheel, stone, belt, paste, sheet, compound, slurry, etc. Takes various forms: surface grinding (creates flat and/or squared surfaces); cylindrical grinding (for external cylindrical and tapered shapes, fillets, undercuts, etc.); centerless grinding; chamfering; thread and form grinding; tool and cutter grinding; offhand grinding; lapping and polishing (grinding with extremely fine grits to create ultrasmooth surfaces); honing; and disc grinding.

hardness


hardness

Hardness is a measure of the resistance of a material to surface indentation or abrasion. There is no absolute scale for hardness. In order to express hardness quantitatively, each type of test has its own scale, which defines hardness. Indentation hardness obtained through static methods is measured by Brinell, Rockwell, Vickers and Knoop tests. Hardness without indentation is measured by a dynamic method, known as the Scleroscope test.