May 31,2016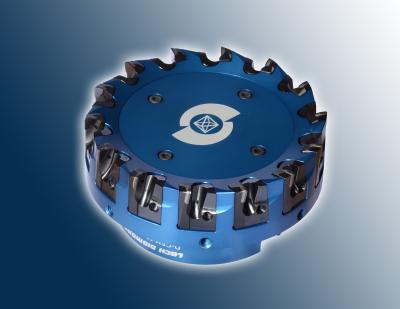 LACH DIAMOND introduces its newly developed PCD cartridge milling cutter »dia-blue-power«. A PCD monoblock milling cutter with brazed cutting edges, chip and shear angle and a large chip space created the basis for better performance and cost reductions in the automobile and composite industries, according to the company.
LACH DIAMOND's PCD monoblock milling cutters proved their performance due to an extremely high number of teeth up to 100 mm in diameter in aluminum machining, but the »dia-blue-power« will utilize its advantages for diameters from 125 to 450 mm. With feed speeds of over 30.000 mm/min, this PCD tool is ideal for tasks during HPC/HSC edge and facemilling of nonferrous metals and composite materials.
The form-locking pressure pieces feature a radially shaped machining area with a possible teeth number from Z14 to Z56 and allow for maximal machining performance of up to 6 mm compared to standard infeeds of maximal 1.5 mm in one run. This also means that users of a PCD cartridge milling cutter »dia-blue-power« will save up to 2/3 time compared to similar models.
As for PCD monoblock milling cutters, LACH DIAMOND provides even better performance and cleanliness at the components via two additional options, »Cool Injection« and »chip breaker Plus«.
»dia-blue-power« is recommended for HSC/HPC machining with speeds up to vc = 6000 m/min and feeds up to vf = 30 m/min.