March 19, 2022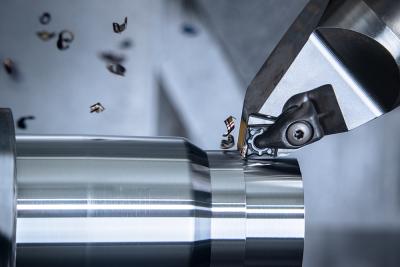 With common steel turning operations in mind, CERATIZIT has introduced three new standard coated-carbide ISO-P steel insert grades that provide up to 20% longer tool life when compared to previous generation grades. The new inserts are highly engineered for increased productivity and feature advanced substrates, geometries and CERATIZIT's innovative Dragonskin multi-layer coating for lower heat and less tool wear.
To prevent insert waste and easily detect wear, the gold-colored TiN outer layer of the Dragonskin multilayer CVD Ti(C,N)/Al2O3/TiN coating acts as an indicator. It not only enables users to clearly identify insert wear and index before a breakage, but also prevents sharp cutting edges from going unused and the insert being inadvertently discarded. Plus, a mechanical post-coating treatment produces beneficial residual stress in the coating that results in increased process security, especially important in the large-volume production situations typically associated with turning ISO-P steels.
Each of the three grades are engineered for optimizing specific production scenarios. The CTCP115-P (ISO P15) grade has enhanced resistance to high temperatures and is ideal for use at higher cutting speeds in smooth, continuous cuts in stable cutting conditions. The CTCP125-P (ISO P25) universal steel-cutting grade balances toughness and wear resistance to provide consistent reliability in turning operations ranging from finishing to rough machining, while the CTC135-P (ISO P35) is a tough carbide grade for lower cutting speeds, interrupted cuts and unstable machining conditions.
A new UP2Date product brochure from CERATIZIT provides additional details about the new grades as well as information about a variety of other productivity-boosting metalcutting tooling and accessories. Contact CERATIZIT for more information and connect with a sales engineer for a free test cut of the ISO-P turning inserts.
Additional Products from Ceratizit USA Inc.