March 01, 2016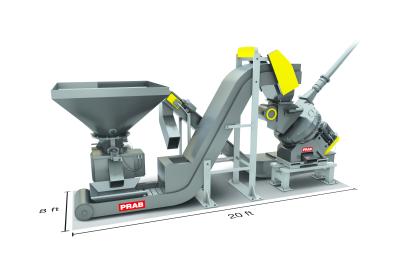 PRAB offers the vertical-axis crusher and diagonal-shaft centrifuge/wringer system for reclaiming cutting fluids and reducing bushy metal turnings into dry shovel-grade chips. Dry chips reduce haul-away costs, mitigate risk of spillage or environmental fines, and offer greater returns on metal with dealers.
PRAB says its vertical-axis crusher provides efficient processing and recycling of scrap metal, handling up to 2,500 lbs./hr. The crusher is equipped with an exclusive solids ejector, which automatically discharges bar ends that could damage the equipment and stop metal processing. This unique feature provides maximum uptime and eliminates the need for unscheduled labor and downtime to dislodge clogged material. PRAB's steel-belt conveyor elevates and transfers wet chips from the crusher into PRAB's engineered diagonal shaft wringer. The shaft design works with gravity to feed flowable, wet chips from conveyor. The straight-line feed eliminates choke points and facilitates uninterrupted material flow. The centrifugal motion within the rotating bowl creates 700 g of force, driving chips and fluid up the bowl liner. Fluids are then collected in a pan and can be diverted for filtration and recycle. Dry chips are discharged for recycling or conveniently briquetted and stored for future sales. Process rates of up to 10,000 lbs./hr. can be achieved. Settled fines are recirculated back into the system using a settling tank with a recirculating drag conveyor.
PRAB's Guardian Coolant Recycling equipment can be added to the system to reduce free-floating and mechanically dispersed tramp oils to 0.1 percent or less at process rates of 90 to 1,500 gph. Some customers have reportedly achieved a 90 percent reduction in new coolant purchases.
Related Glossary Terms
coolant


coolant

Fluid that reduces temperature buildup at the tool/workpiece interface during machining. Normally takes the form of a liquid such as soluble or chemical mixtures (semisynthetic, synthetic) but can be pressurized air or other gas. Because of water's ability to absorb great quantities of heat, it is widely used as a coolant and vehicle for various cutting compounds, with the water-to-compound ratio varying with the machining task. See cutting fluid; semisynthetic cutting fluid; soluble-oil cutting fluid; synthetic cutting fluid.

feed


feed

Rate of change of position of the tool as a whole, relative to the workpiece while cutting.