July 19, 2016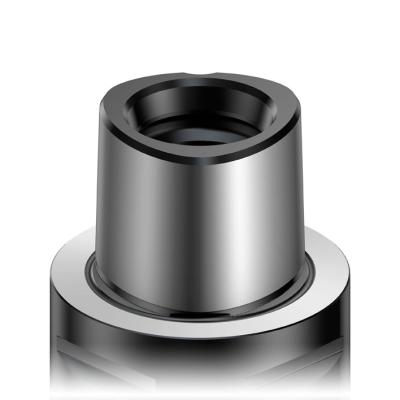 The inherent modularity of three Sandvik Coromant tooling product families—Coromant Capto (pictured), Coromant EH and CoroTurn SL—can reportedly prove highly advantageous to manufacturers looking to tool up a single machine or an entire plant. In contrast to purchasing separate tools for each machine, component and feature, modular tooling solutions allow machine shops to build optimized tooling assemblies to suit all applications using just a small inventory of standard items.
"Adopting a modular tooling strategy creates a standardized solution across the shop floor, eliminating the need for expensive engineered tools with long delivery times," says Åke Axner, Global Product Manager – Machine Integration. "The established Coromant Capto is a case in point. This modular tooling concept offers quick-change tool holders with direct integration in the spindle and a large variety of extension and reduction adapters that enables the assembly of tools with different lengths and design characteristics regardless of the machine interface."
Similarly, the recently introduced Coromant EH system, consisting of exchangeable cutting heads for rotating applications up to 32 mm (1.260 inch), offers users a wide assortment of solid carbide cutting heads, indexable milling cutters, boring heads, integrated machine adapters and shanks. It delivers advantages in large machining centers requiring long reach as well as in small to medium-sized machining centers and turning centers having critical gauge length.
An additional modular product family from Sandvik Coromant is the CoroTurn SL turning modular system. The highly robust Serration Lock (SL) interface allows users to create a wide range of tool combinations from a small inventory of adapters and cutting heads, for both internal and external machining operations.
As an example of where tooling modularity can prove invaluable, consider those hard-to-reach component features. Here, Coromant Capto can offer solutions for all different lengths and machine types, while combining the right Coromant EH shank and modular adapter delivers both reach and accessibility in rotating applications.
Alternatively, consider the need for stability in operations prone to vibration. This is where the modularity of CoroTurn SL benefits from Silent Tools damped boring bars, ensuring productivity and close tolerances in operations with long overhangs.
"Whether you have several machines and want a small inventory to cover all machine interfaces, longer reach applications or varying gauge lengths, going modular though a partnership with Sandvik Coromant will save both time and money," concludes Axner.