June 22, 2016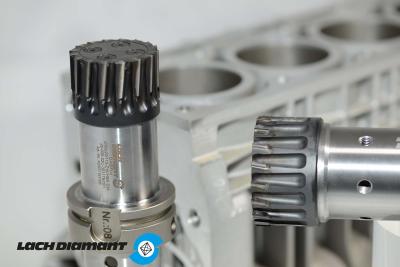 LACH DIAMOND says its solution to combine the »Cool Injection« process, during which the cooling jet is guided by a PCD surface, and the chip controller »Plus« into one single tool proved to be ideal for manufacturing. Now it is possible to work with extremely high cutting speeds and feeds required for HSC machining.
»Cool Injection-Plus« monobloc milling cutters can be manufactured with the highest possible number of PCD cutting edges because chips produced during machining are immediately diverted away from the work area. Both workpiece and cutting edge benefit from this procedure. Due to the fact that chips don't need to be "cut" multiple times, optimal surface quality, precision as well as maximized tool life of the PCD milling cutter are the results.
Overall, the newly developed PCD monobloc milling cutter »Cool Injection-Plus« already achieved a reduction of cycle times in the automotive industry, for example in the production of engines and gearbox housings, of more than 50 percent.
»Cool Injection-Plus« PCD milling cutters will be delivered ready for use – no time intensive adjustments are necessary at all – and can be immediately put onto the machine.
LACH DIAMOND »Cool Injection-Plus« monobloc milling cutters feature a high number of teeth for maximum performance in aluminum machining, particularly in the automotive industry, and are manufactured with diameters up to 100 mm.
The new PCD cartridge milling cutter »dia-blue-power« is available for diameters from 125 to 450 mm.