February 01,2015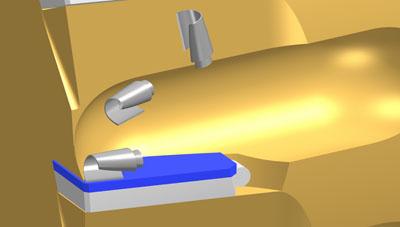 By combining the PCD milling cutters developed and patented by LACH DIAMOND with the PCD chip breaker patented by Audi AG, this process reportedly assures and guarantees controlled and economic machining of aluminum. This idea led to the concept of offering this advantage to all aluminum processors, especially to the automobile accessory industry. This is now possible after conclusion of a licensing agreement with the Audi AG, the owner of the patent.
With immediate effect LACH DIAMOND PCD Monoblock milling cutters will be offered not only with the featured »Cool Injection« for direct cooling through the PCD cutting face, but also alternatively with the chip breaker »Plus«. By combining both advantages, an ideal combination is available for the innovative machining of aluminum: »Cool Injection-Plus«.
By the now-possible close pitch, the maximum number of teeth leads to a considerable longer service life, extreme high cutting values, increased infeed, fine surface quality and component accuracy, according to the company. With high performance cutting (HPC) cycle time reduction of over 50 percent is possible as well.