August 30, 2018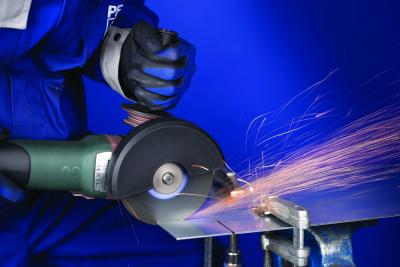 Thin cut-off wheels from PFERD cut faster than conventional wheels, leaving a cleaner cut with minimal burr formation. They are ideally suited for thin-gauge sheet metal, thin-walled tubing and small-diameter cross sections. These cool-cutting wheels exhibit excellent aggressiveness and service life and are ergonomically designed to minimize vibration, noise and dust.
PFERD provides thin cut-off wheels in several different product types with different performance characteristics to match the wide variety of materials, power-tool types, and cutting application needs. These include its popular SG STEEL cut-off wheel. This range of cut-off wheels provides fast cutting performance and long service life for cutting steel and cast iron and is made from a high-performance aluminum oxide grain. It can be used to cut sheet metal, sections and solid material. Thin cut-off wheels in thickness of 0.045, 0.040 and 0.030 in. are recommended for fast, convenient cutting with minimized burr formation.
Other popular PFERD thin cut-off wheels include SG STEELOX wheel widely used for general-purpose cutting of steel and stainless steel.
The SG ALU cut-off wheels are specifically designed for nonloading cut-off use on aluminum and soft, nonferrous sheet metal, sections and solid material.
Related Glossary Terms
aluminum oxide


aluminum oxide

Aluminum oxide, also known as corundum, is used in grinding wheels. The chemical formula is Al2O3. Aluminum oxide is the base for ceramics, which are used in cutting tools for high-speed machining with light chip removal. Aluminum oxide is widely used as coating material applied to carbide substrates by chemical vapor deposition. Coated carbide inserts with Al2O3 layers withstand high cutting speeds, as well as abrasive and crater wear.

burr


burr

Stringy portions of material formed on workpiece edges during machining. Often sharp. Can be removed with hand files, abrasive wheels or belts, wire wheels, abrasive-fiber brushes, waterjet equipment or other methods.