March 27, 2018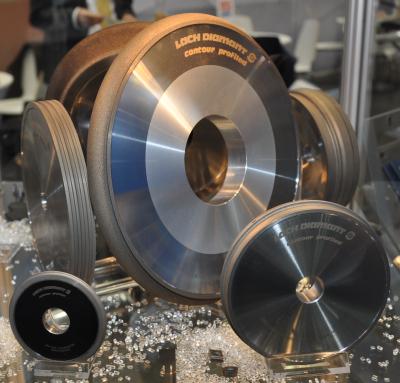 Metal-bond profiled diamond and CBN grinding wheels are available for serial grinding of workpieces made of carbides, hardened steels and ceramics. Lach Diamond says its »contour-profiled« procedure is a cost killer in the best possible way. Previous grinding times with resin/hybrid-bond grinding wheels can be reduced by up to 60 percent.
During deep grinding of threading inserts, the profiled grinding wheels reduce two to three work steps to one single process. The company developed this production procedure, which allows for the manufacturing of almost any profile – concave or convex – at the smallest possible tolerances of up to 0.005 mm.
In addition, metal-bond grinding wheels from Lach Diamond maximize tool life, by far exceeding previous resin bonds.
In regards to maintenance – i.e. reprofiling and regrinding of Lach diamond and CBN grinding wheels – Lach Diamond guarantees 100 percent renewal or reproduction of the original profile and degree of precision and not only once, but multiple times.