August 21, 2017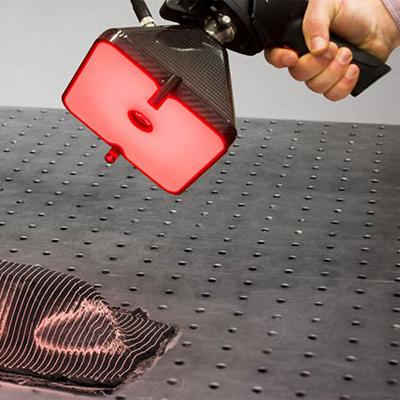 The first ever system dedicated to composite part applications, the Hexagon Manufacturing Intelligence Composite Inspection System is set to revolutionise portable carbon-fibre part inspection and analysis. The system comprises HP-C-V3D Apodius Vision Sensor hardware – designed to fit simply to a ROMER Absolute Arm with Integrated Scanner – together with the custom-built Apodius Explorer 3D software package.

The three-dimensional scanning capabilities of the camera-based HP-C-V3D Apodius Vision Sensor allow for detailed surface texture mapping and part geometry acquisition. Using this data, the sensor can deliver a three-dimensional fibre orientation measurement for comparison with simulation or design data in order to detect, document and classify previously difficult to define production errors.

Apodius Explorer 3D is a real-time software solution custom-built for carbon-fibre surface analysis that supports image processing, output handling and automatic report generation. The measurement process can be visualised in real time within the programme, which can then export fully digitised three-dimensional models based on real-world measurement data. This functionality allows for actual-to-target value comparison through a variety of output modes, including colour-coded simultaneous model and measurement data display.

Combined with the ROMER Absolute Arm SI, which acts as a global reference system for the data collected by the sensor, the Composite Inspection System represents a high-definition solution for assessing carbon-fibre components that is unmatched on the metrology market.
Related Glossary Terms
metrology


metrology

Science of measurement; the principles on which precision machining, quality control and inspection are based. See precision machining, measurement.

surface texture


surface texture

Repetitive or random deviations from the nominal surface, which form 3-D topography of the surface. See flows; lay; roughness; waviness.