May 24, 2016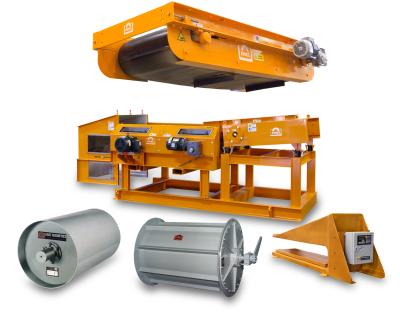 Eriez suspended magnets, drum magnets and AIP magnetic pulleys are used to safely and efficiently recover ferrous metals. Technological advancements in separation equipment enable recovery of valuable ferrous and nonferrous metals less than 1-inch (2.54 cm) in diameter from the fines waste stream.
Eriez Eddy Current separators separate aluminum cans (UBCs) or other nonferrous metals. Recent Eriez Eddy Current testing at an MRF in Florida showed UBC recovery rates in excess of 99 percent.
The Eriez metal loss monitor continually tracks metal losses and counts UBCs or other metals missed by upstream separation equipment, making maintenance issues and adjustment requirements easy to spot. The data gathered also offers beneficial insight needed to properly evaluate whether additional or different separators should be incorporated to reduce metal losses.
Recovery methods also include the use of electromagnetic feeders to help meter plastic regrind and heavy-duty feeders to spread and singulate materials to sorters.
Related Glossary Terms
recovery


recovery

Reduction or removal of workhardening effects, without motion of large-angle grain boundaries.