February 02,2016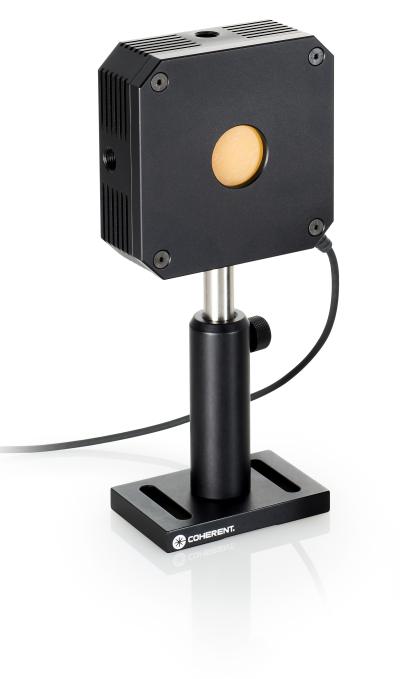 Coherent Inc., Santa Clara, Calif., recently enhanced its series of large-area, high-speed PowerMax-Pro laser detectors to enable power measurement of laser beams of up to 375W continuously, 600W for shorter durations, and modulated peak powers as high as 15 kW in intermittent (long-pulse) operation, according to the company. The PowerMax-Pro detectors, introduced in 2014, are based on Coherent's proprietary thin-film sensor technology that combines the broad wavelength sensitivity, dynamic range and laser damage resistance of a thermopile with the response speed of a semiconductor photodiode.
The new PowerMax-Pro HP model sensors are said to be particularly suitable for materials processing applications based on high power fiber lasers, CO2 lasers, solid state lasers and direct diode lasers, including welding, drilling, engraving and heat treating. What's more, Coherent reports that the detectors are capable of increasing throughput and improving process control thanks, in particular, to their ability to sample continuous wave laser power and pulsed laser energy much more frequently than can be accomplished with traditional thermopile detectors.
The high-power sensors also are said to be suitable for applications involving pulsed lasers, which are used for various aesthetic and surgical medical applications such as skin resurfacing, scar treatment, tattoo and pigment removal and hair removal. Typical lasers for these applications include Q switched Alexandrite, direct diode lasers, CO2 lasers and various other solid state lasers. In these uses, the ability to measure the temporal pulse profile of long pulses at low repetition rates, as well as pulse trains, ensures greater patient safety, more repeatable performance, and better compliance with FDA regulations, the company reported.
Related Glossary Terms
process control


process control

Method of monitoring a process. Relates to electronic hardware and instrumentation used in automated process control. See in-process gaging, inspection; SPC, statistical process control.