October 01, 2014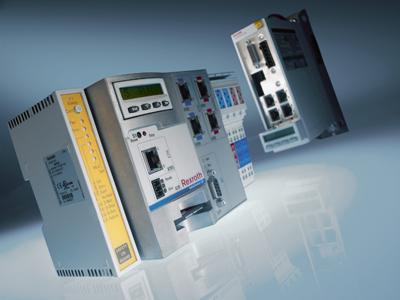 The growth in use and complexity of automation across industries is driving a parallel growth in the complexity of human-machine interfaces (HMIs), resulting in an increased need for standardized, cost-effective functional safety for OEMs. To simplify the development of complex machines, Rexroth is integrating safety technology into the Sercos automation network.
The CIP Safety on Sercos safety protocol ensures safe communication from the control unit to the drive with no additional wiring. The SafeLogic and SafeLogic Compact controls cover all complexity levels of safety-based automation in connection with Rexroth's drive-integrated SafeMotion functions. The user can simply program standard and safety functions in the same engineering environment.
SafeLogic controls the drives for plants and complex machines, such as those used for printing or packaging. The safety function module enhances standard system solutions in the Bosch Rexroth IndraMotion and IndraLogic product lines, turning them into control solutions with integrated safety functions. Customer-specific modifications in the standard control's program sequence have no feedback effects on the safety functions. CIP Safety on Sercos ensures safe communication without additional wiring. Engineers use the uniform Rexroth IndraWorks framework for standard and safety control. Thanks to the multi-safety master functionality, SafeLogic also enables the integration of decentralized safety peripherals from various manufacturers, increasing investment security.
SafeLogic Compact is used in compact machines and small- to mid-size plants. The decentralized safety control activates the drive-integrated safety feature via CIP Safety on Sercos. Programming is intuitive and uses a graphical editor; users verify the functional safety using the integrated offline simulation tool.
For low-complexity applications, design engineers can conform to safety standards with the new generation of Rexroth drive-integrated safety features. SafeMotion is available for all Rexroth IndraDrive series in the entire performance spectrum from 0.1 kW to 630 kW. The SafeMotion functions are suitable for requirements up to Cat 4 with PL e (ISO 13849) and SIL 3 (IEC 62061). SafeMotion monitors up to 16 safe and certified motion functions, such as speed, direction of rotation, and position. New logic elements like safety door monitoring reduce the risk of manipulation. Using CIP Safety on Sercos, OEMs can easily combine up to 25 drives into one safety zone and directly connect the peripherals without superordinate control.
Related Glossary Terms
parallel


parallel

Strip or block of precision-ground stock used to elevate a workpiece, while keeping it parallel to the worktable, to prevent cutter/table contact.

turning


turning

Workpiece is held in a chuck, mounted on a face plate or secured between centers and rotated while a cutting tool, normally a single-point tool, is fed into it along its periphery or across its end or face. Takes the form of straight turning (cutting along the periphery of the workpiece); taper turning (creating a taper); step turning (turning different-size diameters on the same work); chamfering (beveling an edge or shoulder); facing (cutting on an end); turning threads (usually external but can be internal); roughing (high-volume metal removal); and finishing (final light cuts). Performed on lathes, turning centers, chucking machines, automatic screw machines and similar machines.