May 02, 2019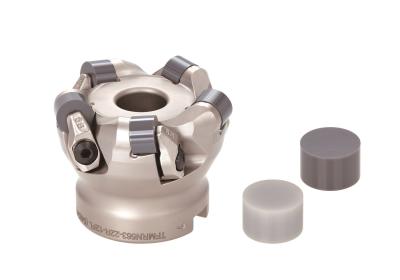 Tungaloy introduces CeramicSpeedMill for efficient milling of heat-resistant superalloys (HRSAs).
CeramicSpeedMill offers round ceramic inserts for milling HRSAs efficiently at elevated feeds and speeds. The negative, economical double-sided ceramic inserts offer superior cutting edge integrity. In addition, the new TS200 and TS300 of SiAlON ceramics grades combined with the close-pitch cutter design enables milling of nickel-base superalloys at cutting speeds of over 500 meters per minute (1,640 sfm) and greater feed rates for efficient milling of HRSAs commonly used for aerospace components.
Two standard ceramic grades are available: TS200 is a universal grade for finishing, while TS300 is designed for descaling and other roughing applications. The cutter body is offered in a bore (shell mill) style in diameters of 63 mm and 80 mm, and 2.5" and 3.0" for the inch market.
At a Glance:
Ceramic facemill with round ceramic inserts designed for machining heat-resistant superalloys
New SiAlON ceramic grade inserts provide wear and fracture resistance when machining at high feeds and speeds
Two cutter bodies and four inserts to be added
Additional Products from Tungaloy America Inc.