July 20, 2023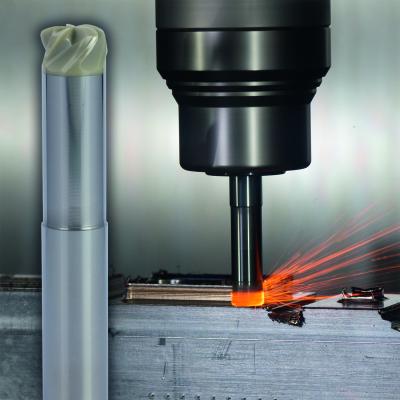 Today, EMUGE-FRANKEN USA, a leading manufacturer of high-performance taps, thread mills, end mills, drills, and other rotary tools, has announced the introduction of its Cera-Cut end mills featuring a high-hardness cutting ceramic head brazed to a carbide shank for optimal vibration dampening and longer tool life compared to one-piece ceramic tools. Featuring a high-feed duplex cutting edge geometry, Cera-Cut produces high metal removal rates in challenging nickel-based alloys, resulting in machining parts 200 to 400% faster than conventional carbide end mills. Also, the tool life of Cera-Cut is up to five times higher than regular carbide end mills.
"With the growing use of heat resistant super alloys, we are pleased to offer our customers new, long-lasting five-flute ceramic end mills for roughing and milling in these challenging applications," said Mr. Dan Doiron, Manager, Milling Products, EMUGE-FRANKEN USA. "For example, Cera-Cut excels in the machining of complex aerospace parts."
EMUGE-FRANKEN Cera-Cut End Mills are designed for the consistent cutting of high-temperature resistant materials such as Inconel, Hastelloy, and Nimonic as well as the machining of hardened tool steels. Cera-Cut is also suitable for making interrupted cuts, and offers a tight cutting diameter tolerance ranging from -0.0008" to -0.0016" (-20 to -40 microns), depending on the tool diameter.
Cera-Cut end mills can be used for roughing or pre-finishing, and can produce 2D or 3D contours, and are suitable for face milling, slot milling, helical milling, contour milling, and pocket milling. EMUGE-FRANKEN Cera-Cut End Mills are offered in different diameters from .24 to .79 inches (6 to 20 mm). Corner radius, modular and special designs are also available.