June 01,2011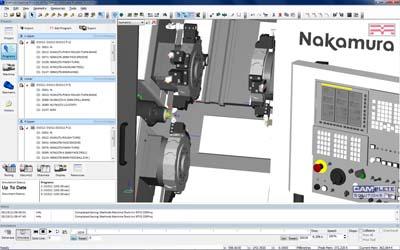 Methods Machine Tools Inc. has introduced CAMplete TruePath Turn/Mill software on Nakamura-Tome Multitasking Turning Centers. CAMplete Turn/Mill software is an integrated suite of G-Code editing, optimization, analysis and verification tools, enabling a full range of turn/mill functions.
"The new CAMplete Turn/Mill software on our Nakamura lathes offers an enhanced multitasking solution. We have worked closely with CAMplete to bring our customers to an entirely new level of machining productivity." said Mr. Richard Parenteau, Director of Application Development at Methods Machine Tools Inc.
New CAMplete Turn/Mill software was developed to create a program that could combine G-Code from CAM systems and hand-coded G-Code into a set of programs that could be simulated, fine-tuned and optimized using detailed 3-D Nakamura machine models.
CAMplete Turn/Mill software includes the following features/functions:
Simulation:
Full Simulation of Nakamura Turning Centers and Programs.
Detailed Tooling and Workholding Libraries.
G-Code Editing:
Editor Allows Modification of Posted or Unposted Data.
Changes Automatically Update to Both Toolpath and G-Code.
Optimization:
Wait Code Editing .
Reorder and Move Operations.
Fine Tune and Optimize to Simplify Multitasking.
Analysis:
Monitors All Aspects of Machine Motion: True Cutting Speeds, Axis Velocity and Acceleration, and Motion Deviations.
Verification:
G-Code is verified.
Verification of Machine, Tooling, and Workholding Using Detailed Nakamura Machine Models.