June 01, 2020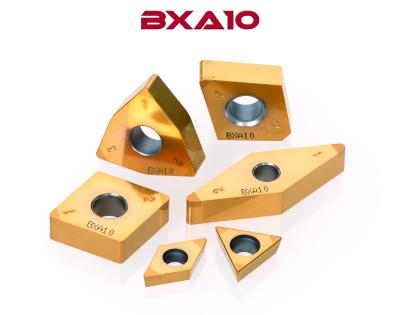 Tungaloy has announced the launch of BXA10, a new coated CBN insert grade in a tipped format for turning hardened steel parts.
BXA10 incorporates a crater-wear-resistant PcBN substrate and the latest multilayer PVD coating for edge toughness, enhancing the grade's wear and fracture resistance. The latest development will provide improved productivity, tool life, and surface integrity in continuous to light interrupted cuts at high cutting speeds of drive shafts, gears, and other case hardened or induction hardened steel parts common in automotive industries.
The complete standard line of new BXA10 offers 278 inserts in a broad range of sizes, geometries, and unique features. Cutting edge preparations are available in five different standard options: -L, -LF, -LC, and –H in addition to the standard 0.13x25°profile, optimizing insert applications for all hard turning needs including those that require specific attention such as burr elimination or edge toughness. The inserts' standard nose radii are available in a comprehensive lineup, including as small as 0.1 mm (.004″) radius, which is ideal for minimal undercutting operations, to the largest 2.4 mm (.094″) for high feed turning. The enhanced lineup of the new BXA10 grade CBN inserts will cover a broader spectrum of hard turning applications.
At a Glance
Crater wear resistant PcBN substrate for process security
Unique multilayered PVD coating technology enhances the grade's wear resistance and edge toughness for maximum tool life
Available in 5 different styles of edge preparations for various hard turning needs
Available nose radii: 0.1, 0.2, 0.4, 0.8, 1.2, 1.6, 2.0, and 2.4 mm
A total of 278 inserts are introduced
Additional Products from Tungaloy America Inc.