July 29, 2021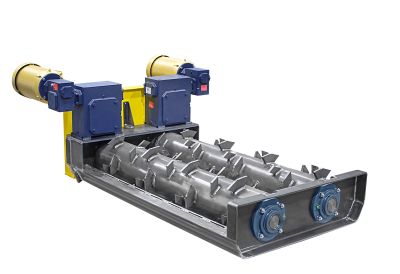 PRAB Inc., a leading engineer and manufacturer of equipment for processing and conveying metal scrap, recycling cutting fluid, and treating industrial water and wastewater, is pleased to introduce the Bundle Breaker, a conveyor enhancement that preconditions stubborn metal scrap bundles for improved material transfer, processing and safety.
During metal scrap processing, conveyance systems using augers or steel belts frequently fail to consistently move bushy bundles of metal scrap because the augers and steel belts are unable to grab hold of the stringy wads. This limitation causes the bundles to bounce around the in-feed hopper until an operator manually breaks them up, or forces the bundle up the conveyor. This practice is both inefficient and unsafe.
The PRAB Bundle Breaker installs in a conveyor's in-feed hopper, where dual rotating cylinders agitate the material, shredding stringy wads of chips, turnings, and bundles apart to allow for effective processing in downstream equipment. The PRAB Bundle Breaker may be added to an existing conveyor or incorporated into a new PRAB metal scrap processing system.
"Back-end systems that cause delays or risk worker safety are a detriment to any metalworking or metal scrap processing operation, not to mention a nuisance to the operator in charge of the processing," said Mike Hook, Sales and Marketing Director for PRAB. "The Bundle Breaker is a cost-effective solution that eliminates downtime, improves safety and facilitates efficient processing."
Related Glossary Terms
cutting fluid


cutting fluid

Liquid used to improve workpiece machinability, enhance tool life, flush out chips and machining debris, and cool the workpiece and tool. Three basic types are: straight oils; soluble oils, which emulsify in water; and synthetic fluids, which are water-based chemical solutions having no oil. See coolant; semisynthetic cutting fluid; soluble-oil cutting fluid; synthetic cutting fluid.

metalworking


metalworking

Any manufacturing process in which metal is processed or machined such that the workpiece is given a new shape. Broadly defined, the term includes processes such as design and layout, heat-treating, material handling and inspection.