July 11,2018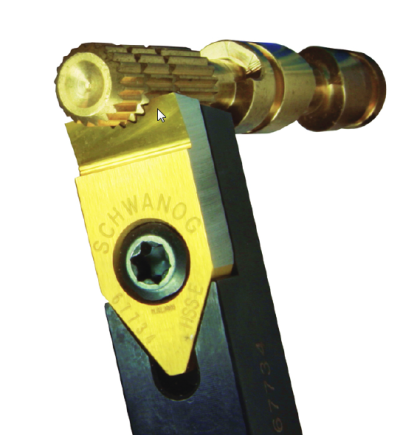 Conventional machining of serrations on turned parts requires a separate process either while milling or broaching. Before either of these finishing processes can take place the parts generally must go through a cleaning process. With Schwanog's broaching tool, manufacturer of serrated turned parts are able to use a completely new approach on a conventional lathe with C-axis, in a single operation, which eliminates the cleaning process.
The broaching tool carries a quarter circle geometry with six teeth and only the first tooth carries a complete (finish depth) profile while the remaining five teeth are considered roughing teeth.
Broaching of serration is a two-step process. With the first step the spindle does not move and the broach feeds three times until the first tooth is completely established. With the second step the spindle starts indexing and the five successive teeth are continuously broached until the finished depth is reached.
The advantages of this system are significant cost savings due to setup time reduction and reduction of part cycle time due to faster production cycles.